Sushi V3 Is Live On Avalanche!
Learn about Sushi's new V3 product offerings on Avalanche
Date
Become a crypto chef with SushiSwap! Sushi is one of the most used and reliable decentralized exchanges, deployed across 10+ blockchains and supporting thousands of tokens. You can trade, earn, stack yields and safely move assets across chains, all on one decentralized, community-driven platform.
Welcome to the home of DeFi: Sushi
---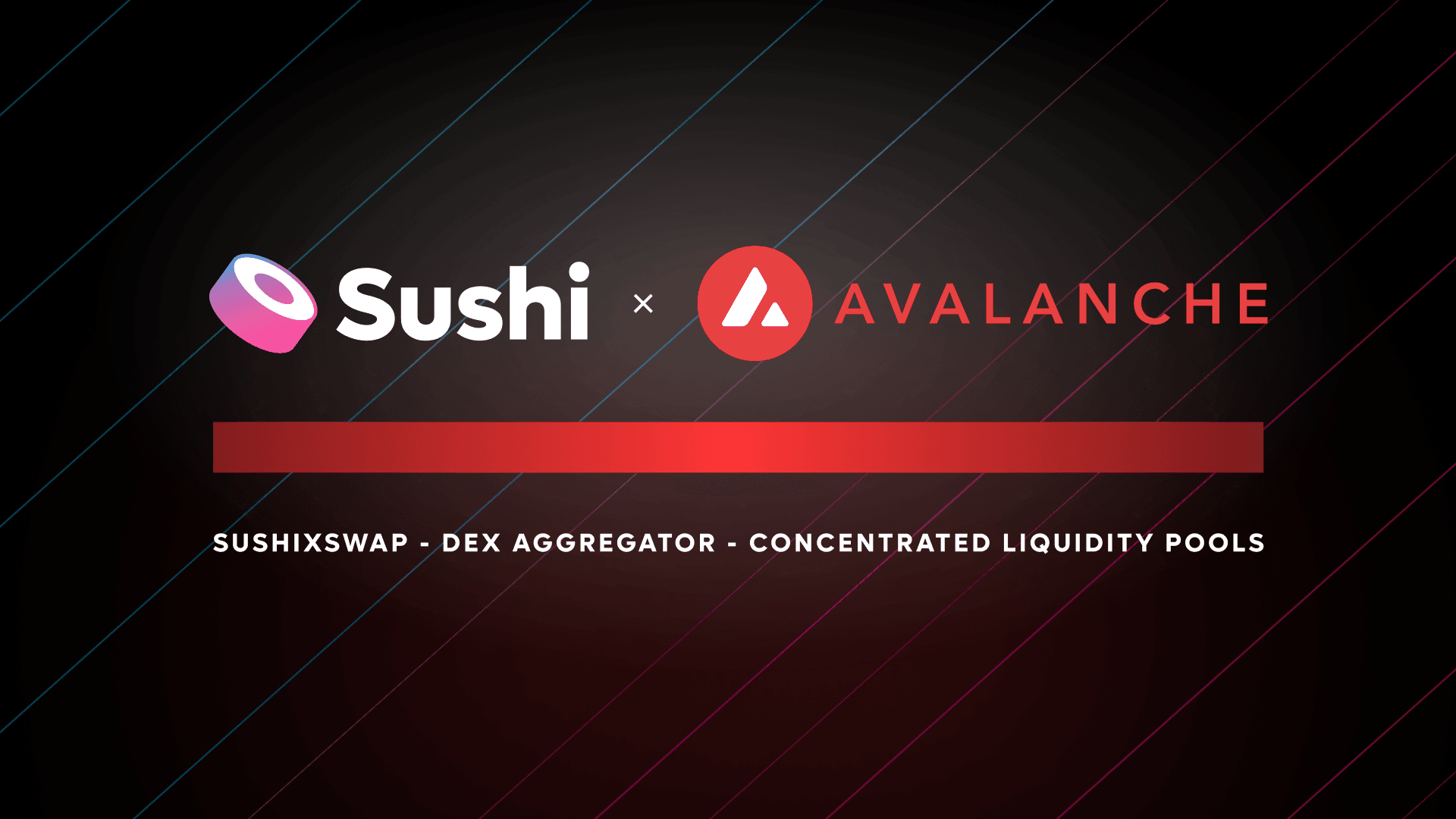 We are pleased to announce that we have officially rolled out our v3 suite of products on Avalanche! Though the protocol has been live on Avalanche for quite some time, this marks Sushi's first concentrated liquidity offering on the chain. In addition to concentrated liquidity pools, the new integration also includes SushiXSwap for cross-chain swaps and our brand new DEX aggregator to aim for the best quotes across every pair.
Avalanche needs no introduction, having cemented themselves as one of the top blue-chip stalwarts in the space for the past few years. It was only a matter of time before we brought our v3 releases to Avalanche, and we are excited to continue to work with Avalanche to continue to build on this vibrant ecosystem.
---
What's Available?
We have buffed up our existing offerings on Avalanche with this latest release, deploying a trio of our new products on-chain: concentrated liquidity pools, SushiXSwap, and our DEX aggregator.
Concentrated Liquidity Pools
Concentrated liquidity pools are the flagship feature of the new v3 release, allowing for users to provide liquidity and earn rewards in the most efficient way possible. They work by splitting the price curve of a specified pair into intervals, creating a unique price curve in each interval that fluctuates based on the amount of liquidity provided in that specific interval, or price range. This model allows for liquidity providers (LPs) to allocate their capital around their own defined price range, giving LPs full control over when and where their position will likely be generating fees.
📚 You can see existing concentrated liquidity pools on Avalanche or create your own here
📚 You can learn how to create, manage and close a concentrated liquidity position on Sushi here
SushiXSwap
SushiXSwap is our cross-chain messaging protocol, built upon LayerZero's Stargate technology. It enables Sushi users to make swaps across multiple chains, abstracting away any additional steps (bridging funds, utilizing multiple protocols, swapping into the native currency, etc.) into one intuitive interface. Users simply need to toggle cross-chain swaps and select Avalanche as the source or destination chain to begin using SushiXSwap immediately.
📚 If you'd like to learn more about SushiXSwap, you can read about it here
DEX Aggregator
Last but certainly not least, we have deployed our brand new DEX aggregator onto Avalanche as well. Our DEX aggregator aims to get users the best quotes for their swaps by aggregating multiple DEXs together, unifying liquidity and providing a deeper pool for users to trade against. This also opens up the sheer amount of assets that can be traded on Sushi on Avalanche, since the aggregator can pull multiple quotes for tokens that were not available to be traded on the Sushi UI before. The aggregator automatically works its magic in the background; Sushi users can believe that they are getting the better, cheaper quotes for their swaps in normal market conditions, which can now be felt while transacting on Avalanche!
📚 If you'd like to learn more about our DEX aggregator, you can do so here
---
Looking Ahead
We are excited to bring Sushi v3 to Avalanche and their loyal community! With the widest selection of v3 pools across all DEXs, we hope to continue to open up and provide more access to exciting, novel DeFi products for everyone, no matter where they are or which chain their capital lives on. Be sure to let us know what you think on Twitter or Discord and keep a close eye on our socials for further product updates.
If you'd like to know more about Sushi, Avalanche or any of the products mentioned, please consider reading more at the following links:
---
Sushi is building a decentralized, comprehensive DeFi ecosystem complete with AMM, cross-chain capabilities, NFT artist platform and more. Follow our socials to keep up with our product launches and find out more on how you can make the most of your cryptocurrency assets with Sushi's secure and powerful DeFi tools!
Exchange & XSwap | Docs | Discord | Telegram | Newsletter | Youtube | Tutorial | Github