Sushi Concentrated Liquidity v3 Is Live!
Concentrated Liquidity, Everywhere. Capital Efficiency, Anywhere.
Date
Become a crypto chef with SushiSwap! Sushi is one of the most used and reliable decentralized exchanges, deployed across 10+ blockchains and supporting thousands of tokens. You can trade, earn, stack yields and safely move assets across chains, all on one decentralized, community-driven platform.
Welcome to the home of DeFi: Sushi
---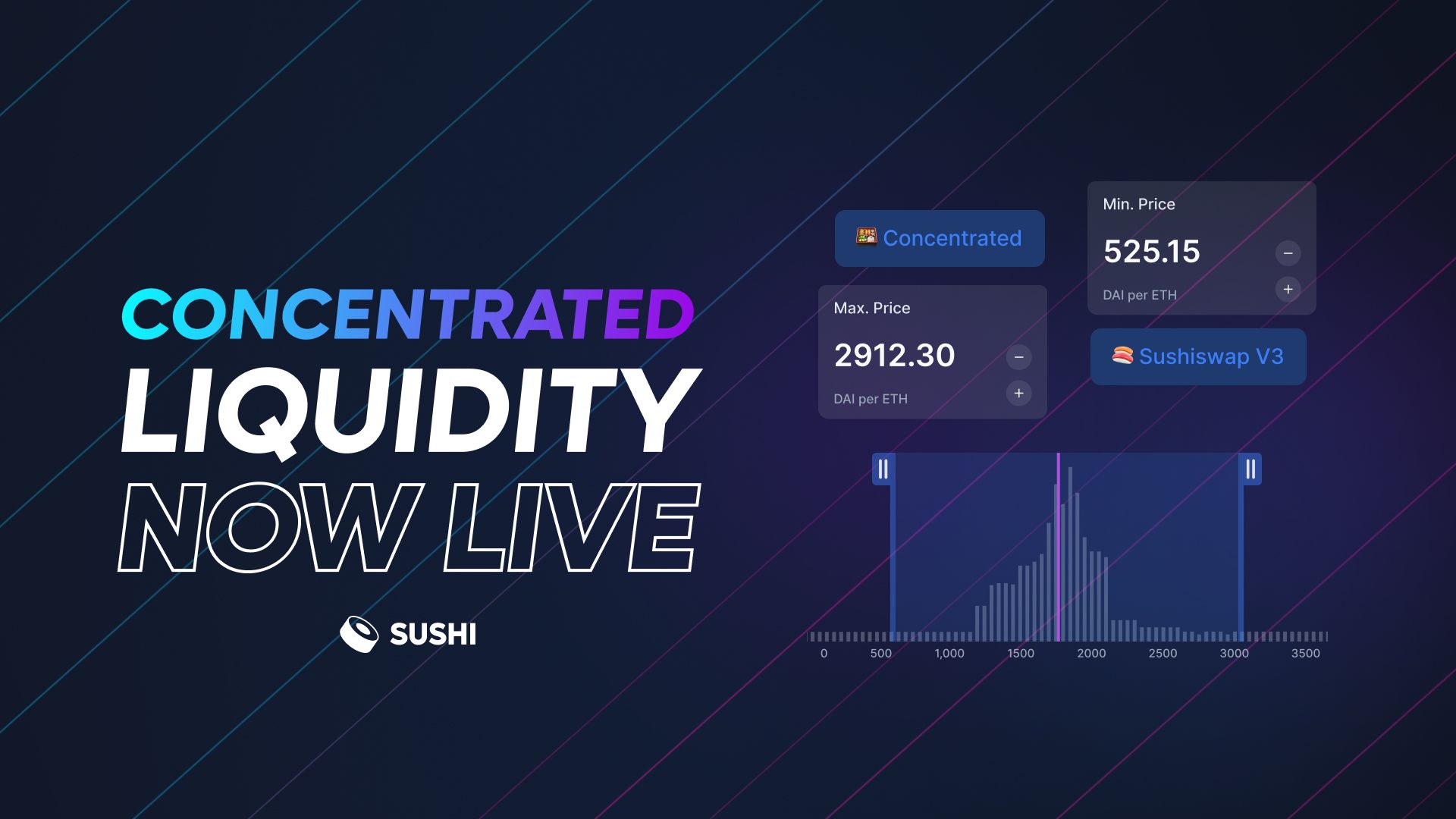 Concentrated Liquidity, Everywhere. Capital Efficiency, Anywhere.
Today, we have launched Sushi's concentrated liquidity (v3) pools (sushi.com/pools) on 13 networks, with more coming soon. This launch marks the broadest deployment of v3 pools ever.
Sushi is at the forefront of concentrated liquidity adoption across the entire DeFi ecosystem. Our unique position as the first and only DEX with the most comprehensive coverage of v3 pools, coupled with our robust cross-chain infrastructure, allow users and Liquidity Providers (LPs) alike to seamlessly manage funds across all networks, making trading and providing liquidity easier than ever before. As a result, the introduction of v3 enables users and LPs to benefit from more trading volume, liquidity, and reduced exposure to potential impermanent loss. We've also upgraded the user experience with the launch of our new UI. The new UI makes it easier for users to navigate the platform, access information about their positions, and manage their trades more effectively.
---
Capital Efficiency: Less Slippage, More Profit
The concentrated liquidity pool design helps traders and liquidity providers (LPs) optimize their trading experience. Concentrated liquidity pools are capital efficient because they allow liquidity providers (LPs) to concentrate their funds in a smaller price range around the current market price, which reduces the spread between buy and sell orders, reducing slippage for traders. With lower slippage, traders can execute trades with greater precision, resulting in more trading volume and liquidity, creating a positive feedback loop and increasing the LPs' pool profitability.
By concentrating liquidity in a smaller price range, the potential for impermanent loss lessens, allowing LPs to provide liquidity with fewer tokens, delivering greater capital efficiency than traditional liquidity pools, where LPs must deploy more capital to cover a wider price range.
---
Maximum Simplicity and Intuitive UI
Accompanying our concentrated liquidity release, we're proud to introduce a new, improved UI for max simplicity and an effortless user experience. We've implemented the following: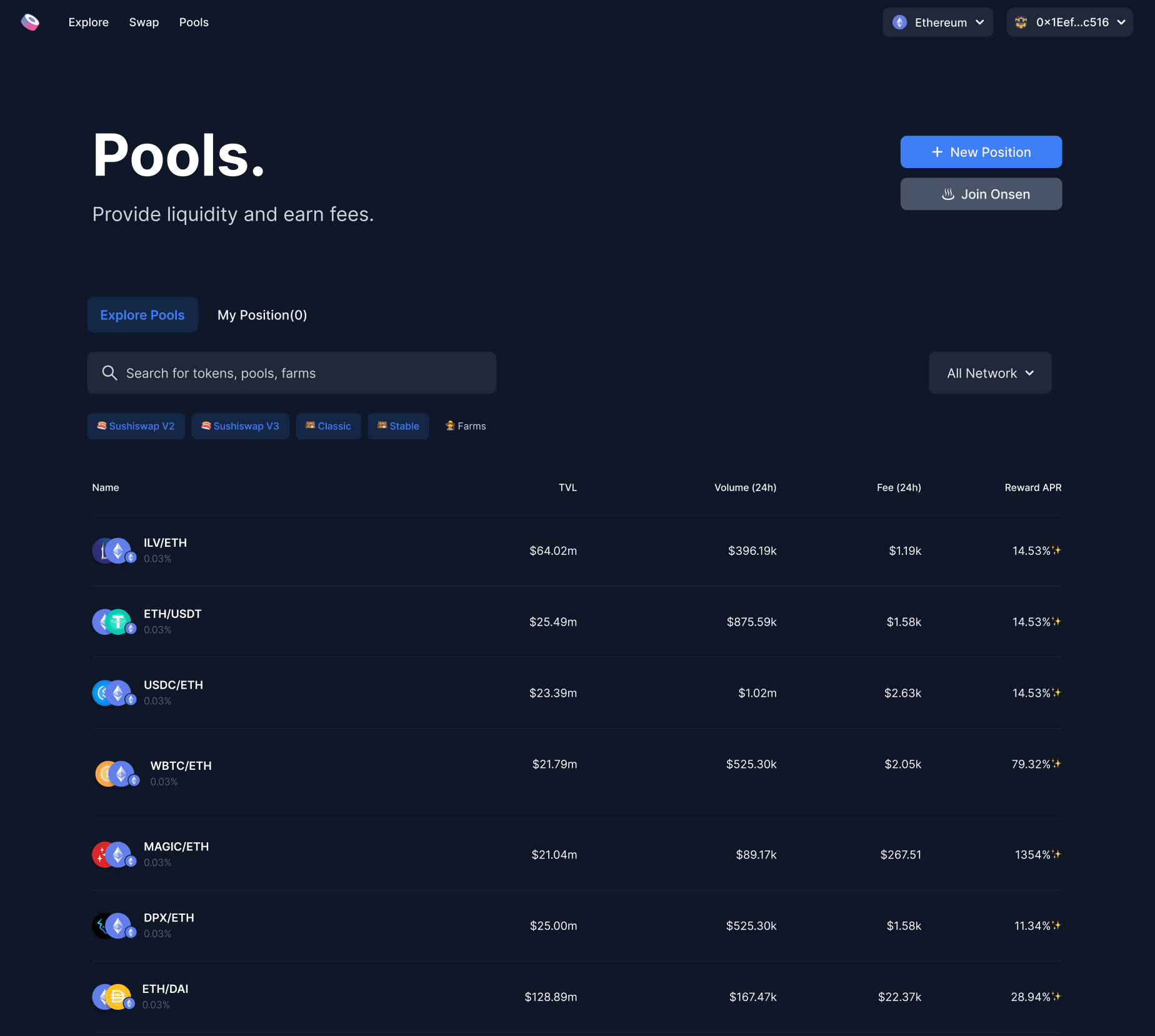 Light & Dark Mode
You can now trade more comfortably by choosing the mode that suits your preference.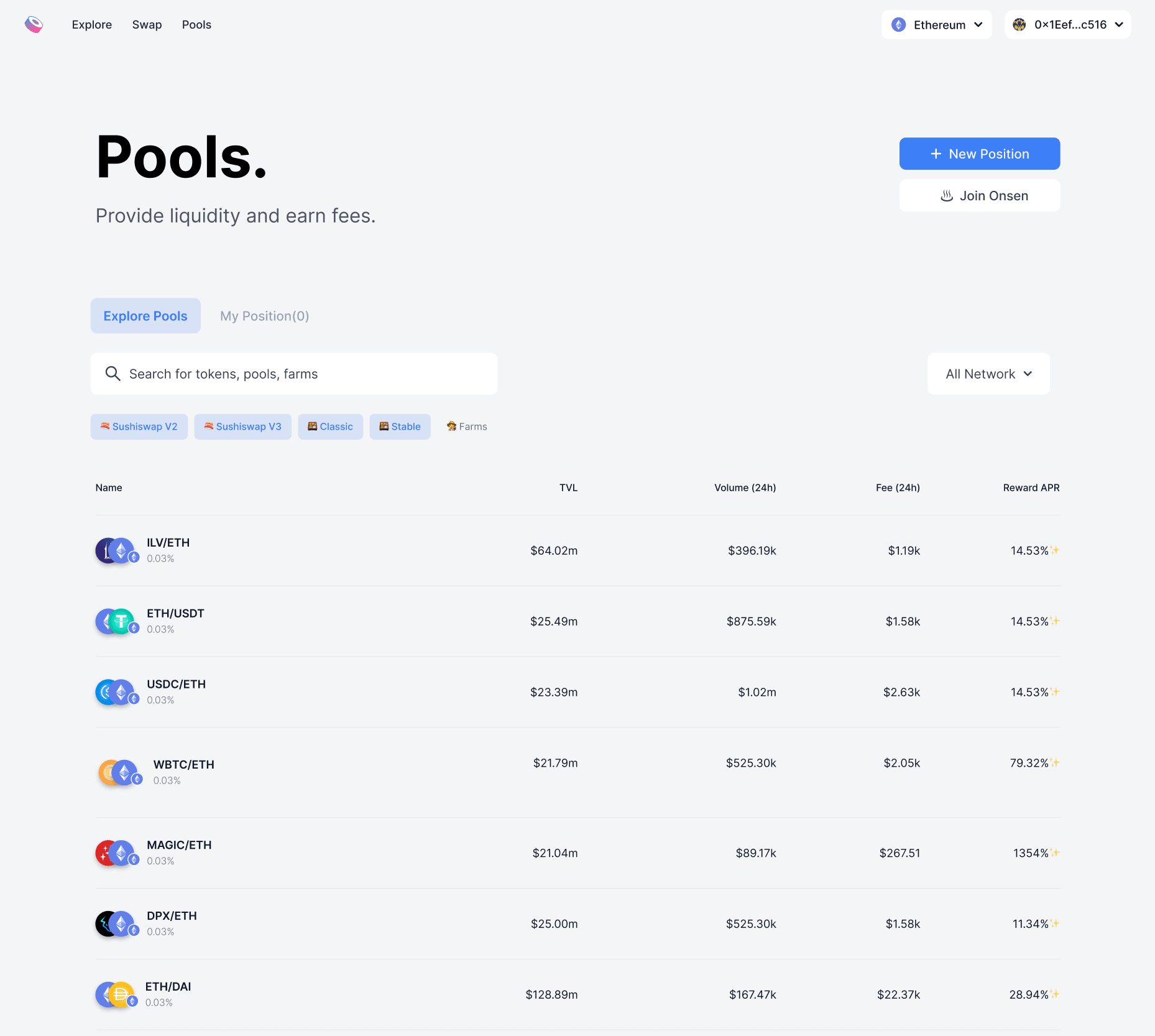 Step-by-Step UX Guidance
Guiding users for each step involved in adding liquidity.
Price Range Selector
Graphical representation of the price range a user intends to provide liquidity.
---
Innovative Routing
The v3 release includes a brand new route processing contract for our in-house smart order routing system, Tines. Together, Tines and the new route processor (RouteProcessor3) unify liquidity across all of Sushi by enabling pools of all types to interact with each other, effectively creating a large pool of liquidity to trade against. Tines will construct the most cost-efficient route for a swap to take based on the current conditions, then will execute the swap that has the lowest price impact. This design ensures users get the cheapest swaps possible with maximum capital-efficiency.
---
What's Next?
With this launch, we've taken our first step towards increasing the adoption of concentrated liquidity across the DeFi space. Over the next few weeks, we will launch our comprehensive, nearly 30-concentrated liquidity network support in two phases.
⛓️ Phase 1: Multichain
Rollout of v3 across 13 networks and more coming very soon, ultimately covering all 30 chains live on Sushi. Additionally, we plan to deploy our full DEX to zero-knowledge rollups soon. The complete list of networks Sushi v3 is currently live on are:
Arbitrum
Arbitrum-nova
Avalanche
BSC
Fantom
Fuse
Moonriver
Polygon
Optimism
Ethereum
Gnosis
Moonbeam
Polygon zkEVM
--
💸 Phase 2: Rewards
In the next phase, we'll introduce a unique rewards program for the most efficient LPs. With this program, LPs are eligible to get rewarded with additional $SUSHI. The rewards program will kick-off on the following networks: Ethereum, Arbitrum, Optimism & Polygon and rolled out as more chains get added. More information and details will be released in a separate article #soon.
In the last few months, we've also been working with exciting partners who have built on top of our v3 pools, and we are excited to reveal additional features that will simplify and automate your v3 LP experience.
We take pride in leading the way with our multi-and-cross-chain concentrated liquidity launch, representing a significant step forward in developing the DeFi ecosystem. With our robust cross-chain infrastructure, v3 coverage, and improved UI, we are confident that our users and LPs will benefit from a better trading experience and increased capital efficiency.
Try it out now: Sushi.com/pools
---
Sushi is building a decentralized, comprehensive DeFi ecosystem complete with AMM, cross-chain capabilities, NFT artist platform and more. Follow our socials to keep up with our product launches and find out more on how you can make the most of your cryptocurrency assets with Sushi's secure and powerful DeFi tools!
Exchange & XSwap | Docs | Discord | Telegram | Newsletter | Youtube | Tutorial | Github