How to trade Reddit Fortnite BR's $Brick tokens
Sushi is a DEX, we're a one-stop shop for all your decentralized finance needs.
Date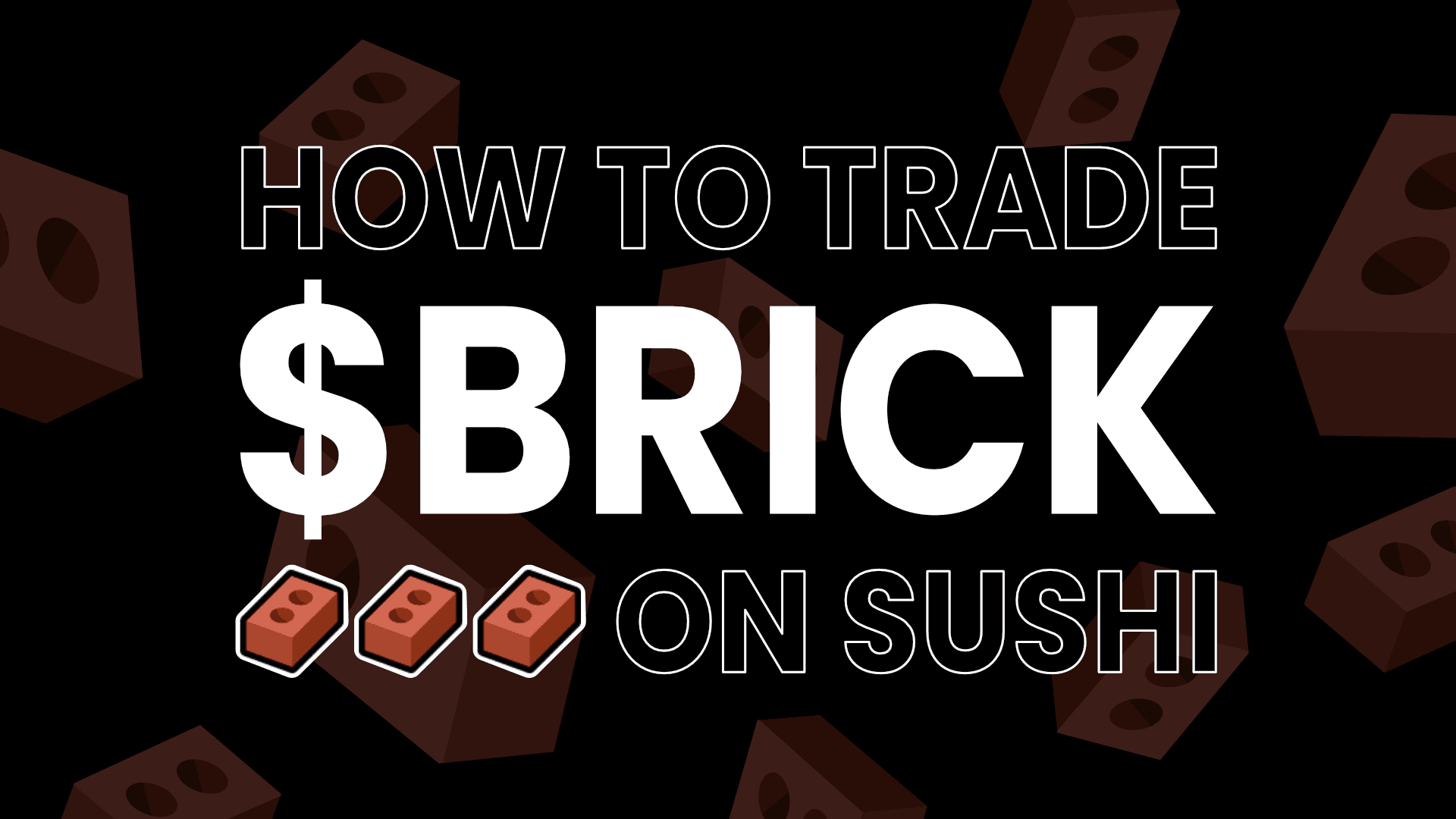 Be a Crypto Chef with SushiSwap! Sushi is one of the most used decentralized exchanges, deployed on 10+ blockchains, and supporting thousands of tokens. You can trade, earn, stack yields, lend, borrow, leverage all on one decentralized, community driven platform. Welcome to the home of DeFi: https://sushi.com/
📣 We just enabled $BRICK trading on SushiSwap! 📣
Buy and sell your tokens here: app.sushi.com *if you don't see it autofilled - switch to Arbitrum Nova manually
.
💡 What are Bricks?!
Bricks are r/FortniteBR's version of Community Points. It is a way for users to be rewarded for their contributions to the subreddit. Bricks can be earned, tipped, won, collected, and spent on unique items within the community. Note: Bricks are in no way affiliated or associated with Epic Games.
---
💰How to buy $BRICK on SushiSwap:
Get the Metamask wallet browser extension at https://metamask.io/.

Buy ETH at any fiat-token gateway, and send ETH to your Metamask.

Head over to https://bridge.arbitrum.io/?l2ChainId=4217 to bridge your ETH from Mainnet to Arbitrum Nova.

If your Metamask doesn't show Arbitrum Nova yet, head over to https://chainlist.xyz/ or follow these steps to enable it.

Head over to app.sushi.com/swap to swap from ETH to BRICK.

Confirm your swap.

Add $BRICK token to Metamask.

Copy your vault address from Reddit app account settings.

Open your Metamask and send tokens to your vault.

You should see your tokens in the vault now!
💸 Bonus: Learn how you can earn a portion of the trading fees by becoming a Liquidity Provider in our next tutorial here.
---
🤝 How to sell your $BRICK to ETH or Stablecoins
Install Metamask - https://metamask.io/.
Transfer your $BRICK from the Reddit vault to your wallet, by copying your seed phrase into Metamask.
DO NOT share this phrase with anyone! These words can be used to steal all your accounts. You can't edit or change your secret recovery phrase.
Search for Arbitrum Nova on http://chainlist.xyz/ and add it to your list of Metamask networks.

Head over to app.sushi.com/swap to trade your tokens.

Confirm your swap - that's it!
---
ℹ️ What is SushiSwap?
Sushi is a decentralized exchange, we aim to be a one-stop shop for all your decentralized finance (DeFi) needs. Sushi allows users to trade cryptocurrencies without the need for a central operator administrator. We use a collection of liquidity pools to achieve this goal. Users first lock up assets into smart contracts, and traders then buy and sell cryptocurrencies from those pools, swapping out one token for another.
💬 Still got questions?
Hit us up in Discord or on Twitter.
---
Sushi is building a comprehensive DeFi ecosystem with AMM, leverage & margin trading platform, token launchpad and NFT artist platform. Follow our socials to keep up with our product launches and find out more on how you can make the most of your cryptocurrency assets with Sushi's secure and powerful DeFi tools!
Exchange & XSwap | Kashi | MISO | Docs | Discord | Twitter | Telegram | YouTube | Tutorial | Github