Sushi v2 is Now Live on Base!
Following the successful v3 launch
Date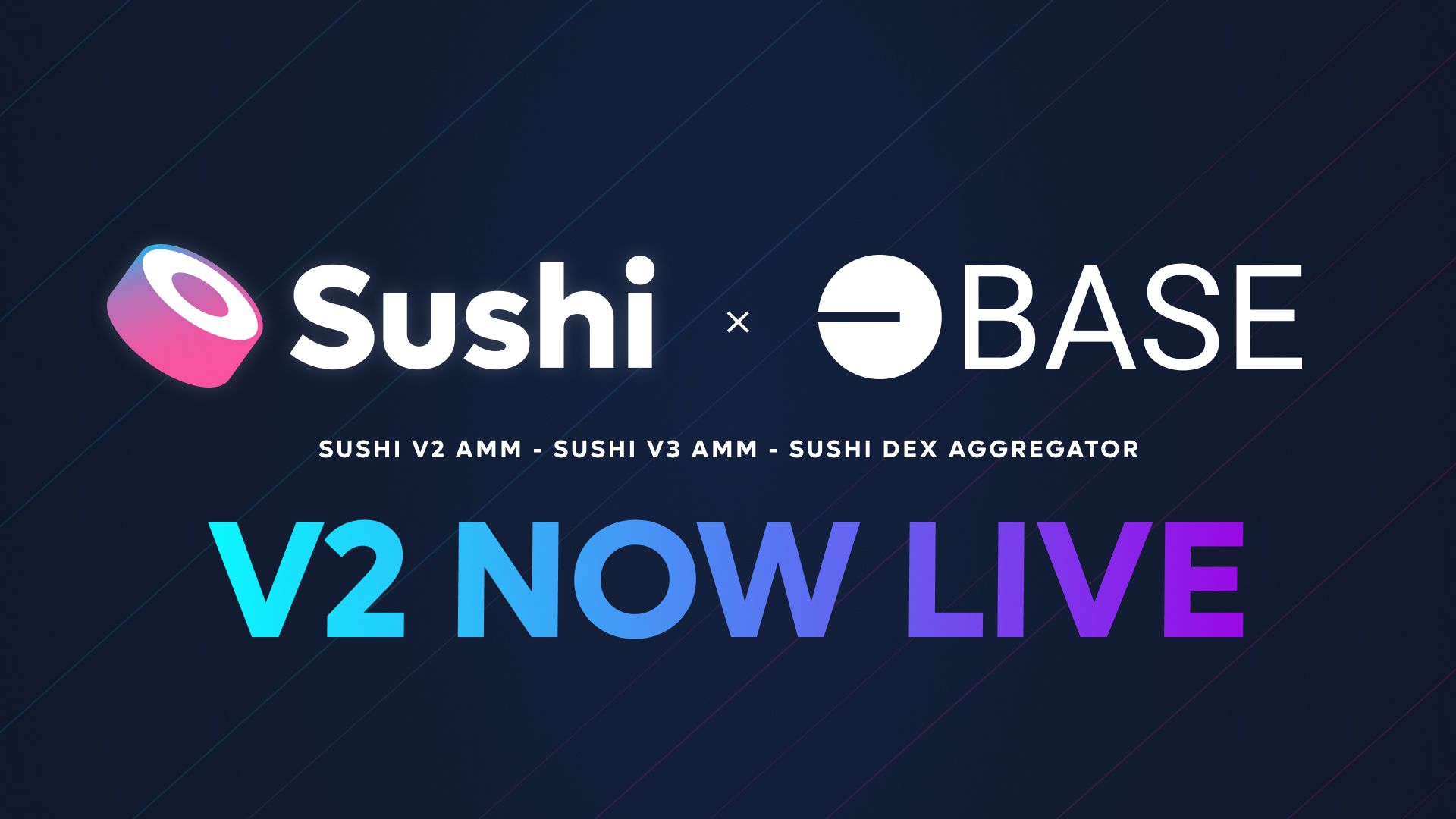 Following our successful launch of Sushi v3 on Base, we're pleased to announce that due to high demand, Sushi v2 is now also available on Base! We're proud of the success v3 has achieved on Base, with over 6 million in TVL and 23 tokens live.
Sushi: The Go-To DEX on Base
While v3 has been popular, a significant number of users still prefer v2. Since many Base DEX users mainly use v2, we've responded to the community's feedback and have added v2 to Base to accommodate this trading volume.
Sushi stands out among the decentralized exchanges (DEX) on Base, offering users a unique blend of advantages:
Wide Token Variety: Offering a selection of 23 tokens, from staples such as $ETH, $WETH, and $DAI, to the DeFi OGs like $BAL and $COMP, and even the trending tokens like $TOSHI, $MOCHI, and interchain tokens such as $AXL, $axlUSDC, $axlDAI.
Competitive Pricing due to Sushi's built-in DEX aggregator.
Intuitive LP Interface that showcases data like TVL, trading volume, and APR.
Availability of both v2 & v3 for traders with varying trading preferences.
v3 ALM solutions, especially with partners like Steer Protocols, which provide an efficient and risk-minimized trading experience with five pools already live on Base.
A long-standing history in DeFi and extensive experience in multi-chain integration.
Check out this article "Why Sushi is the go-to DEX on Base" for more information.
V2 or V3? Which Sushi version should you choose?
Here's a quick breakdown to guide your decision:
Sushi v2: This version is user-friendly and designed for a broader audience. With v2, there's no need to engage with the complexities of setting price ranges or continuously monitoring for potential range exits. It provides a straightforward, hassle-free trading experience, making it the go-to choice for many.
Sushi v3: On the other hand, v3 caters more to our seasoned traders and those who desire a more nuanced trading setup. Beyond just swapping tokens, v3 allows traders to specify price ranges for their liquidity, enabling them to earn more in transaction fees. With the inclusion of advanced Automated Liquidity Management (ALM) tools, like our partnership with Steer Protocol, to streamline the LPing process on v3, mitigate risk and potentially amplify your returns by maximizing APRs.
In summary, both versions offer unique benefits, so your choice should align with your trading preferences and experience level. Whether you're looking for a 'set and forget' LP solution or a degen desiring capital efficiency, Sushi has got you covered!
Engaging with Sushi on Base
You can easily bridge your assets, swap, and provide liquidity on Sushi, whether you opt for v2 or v3. And, as always, our comprehensive tutorial is at your service to guide you through every step: Link

Celebrate with Us!
To mark this milestone, we are running a "Base x Sushi 💣 Bomb Diggity💥 NFT" on Galxe Link. Complete tasks and grab a free NFT!
Watch out for our special campaign and rewards, ensuring that our community enjoys the best of both Sushi versions on Base.
Stay Updated!
For more information, tutorials, and updates:
Exchange & XSwap | Docs | Discord | Twitter | Telegram | Newsletter | Youtube | Tutorial | Github