Sushi turns 3 !
Celebrating 3 years of Multi-chain Goodness
Date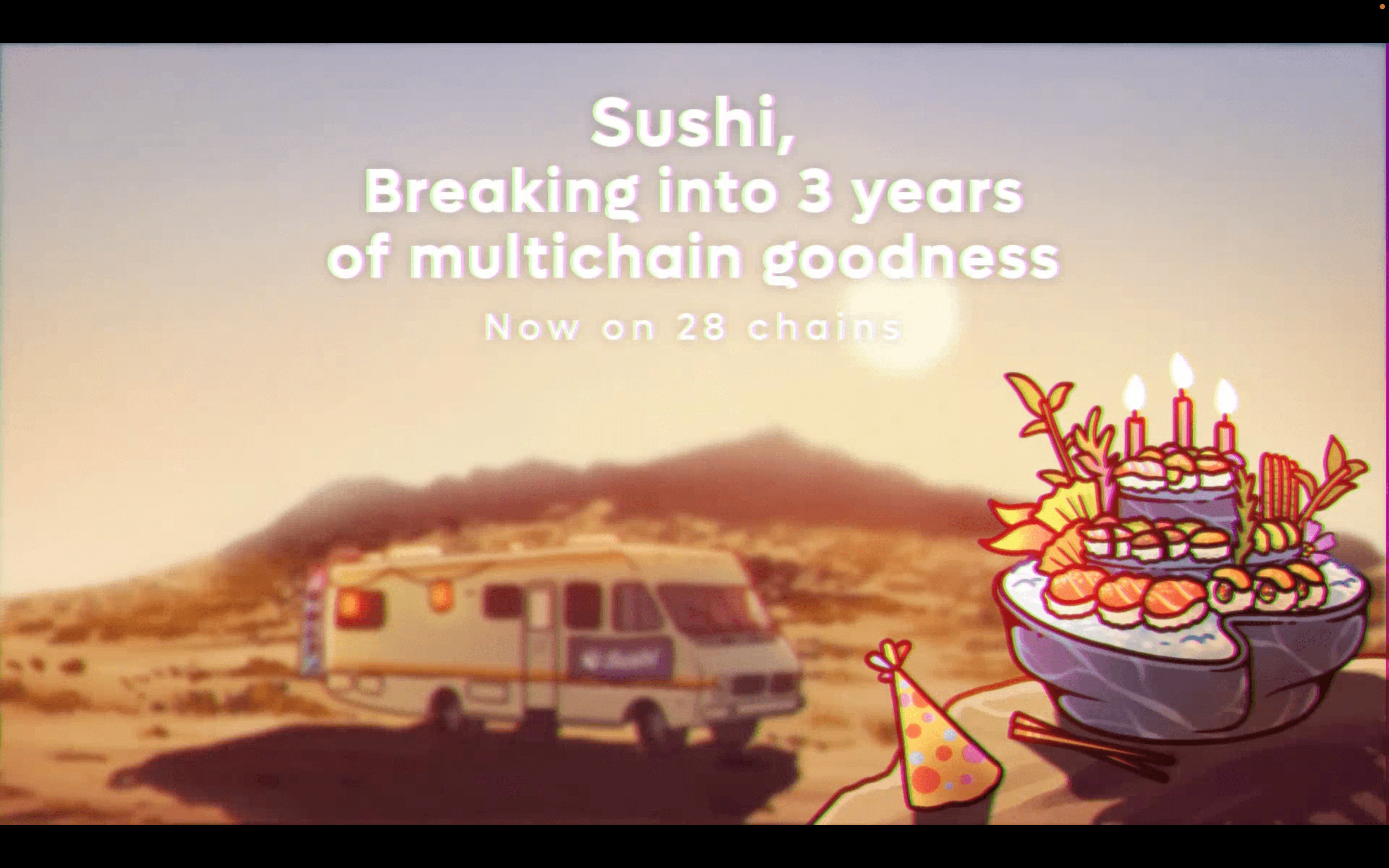 Sushi is 3 years old! As we stand at this milestone, we're excited to share with you all that we've planned to mark this special occasion. But first, a moment of reflection.
Product
We have gone through so much in the last 3 years: market ups and downs, team changes and product experiments. Looking back at the SUSHI REVITALIZED blog, the #1 Sushi Roadmap Goal for 2023 is to "Make Sushi a market-leading DEX obsessively focused on users'. With that in mind, we are committed to bring users exceptional DEXpereince.
What Sets Us Apart This Year:
Multichain Power: We've become the industry leader in multichain, marking our presence on 27 chains with more chains and more use cases to come.
SushiXSwap: Since its introduction, our cross-chain swap has seen an organic surge in volume.
Sushi DEX Aggregator: Our built in DEX aggregators can offer some of the most competitive rates.
Smart Pools: Our v3 pools, empowered by Steer Protocol, minimize the need for active LP management and make v3 usable. We are integrating with more ALM partners like Gamma and DeFi Edge.
As we move forward, we have identified a few key areas to help us deliver an exceptional DEXperience.
Key Focus Areas:
Enhancing the Overall User Experience:
Aiming to enhance user experiences in DeFi, we're integrating select CEX features to refine our platform without compromising its decentralized core, including UI/UX overhaul, product features and user incentives.

Superior Trading Experience:
With Swap at our core, we're enhancing trader experience through our DEX aggregator, SushiXSwap, and forthcoming expansions across chains, partnerships with external DEX aggregators, and diverse order types.

Improving v3 LPing experience:
To ensure a user-friendly and sustainable LPing experience, we're advancing with innovations such as v3's Concentrated Liquidity Smart Pools, improved BentoBox infrastructure and auto-compounding products.
We are working on our updated Product Roadmap and some potential deep integrations. We will share more details soon, so stay tuned!
Tokenomics
As Sushi innovates on its core DEX business model, new tokenomics must help facilitate its growth goals. In the token whitepaper, we present a new model to help Sushi achieve long-term value for its stakeholders without sacrificing the economic health of the protocol.
Our goals include boosting liquidity, promoting Treasury diversification, and maintaining a predictable token supply, not only to address some of the legacy issues from DeFi summer but also to reset the industry standard by injecting some new ideas.
The updated tokenomics will be released in the coming days. Stay tuned!
Celebrating 3 years of Multi-chain goodness
For those who've rolled with Sushi, you'd know our birthdays aren't just a day – could be 23rd, 26th, or 28th of August. Hence, we rock the entire week! Dive into what's on the menu:
🎥 3 Years of Multi-chain Goodness Video: Mr. White's stepping in as our special guest chef. Wait till you see what he's whipped up.
🌐 Celebrative Website: Swing by our website this week – it's decked out in festivity.
🖼 Limited Edition NFT Drop: In the festive spirit, we've got a unique NFT ready for those who joined us on our birthday!
Link
🍣$SUSHI Giveaway: Here's the spicy bit: $3000 up for grabs, spread out among 30 random NFT downloaders.
Hope our lineup hits the spot! Big thanks to all the chefs and everyone who's been on this Sushi ride.
Join us as we celebrate, and let's make this birthday week truly yummy!
Exchange & XSwap | Docs | Discord | Twitter | Telegram | Newsletter | Youtube | Tutorial | Github