Sushi is Live on Base
One of the first DEXes live, leading the Multi-Chain DEXperience on Ethereum L2
Date
Welcome to the home of DeFi: Sushi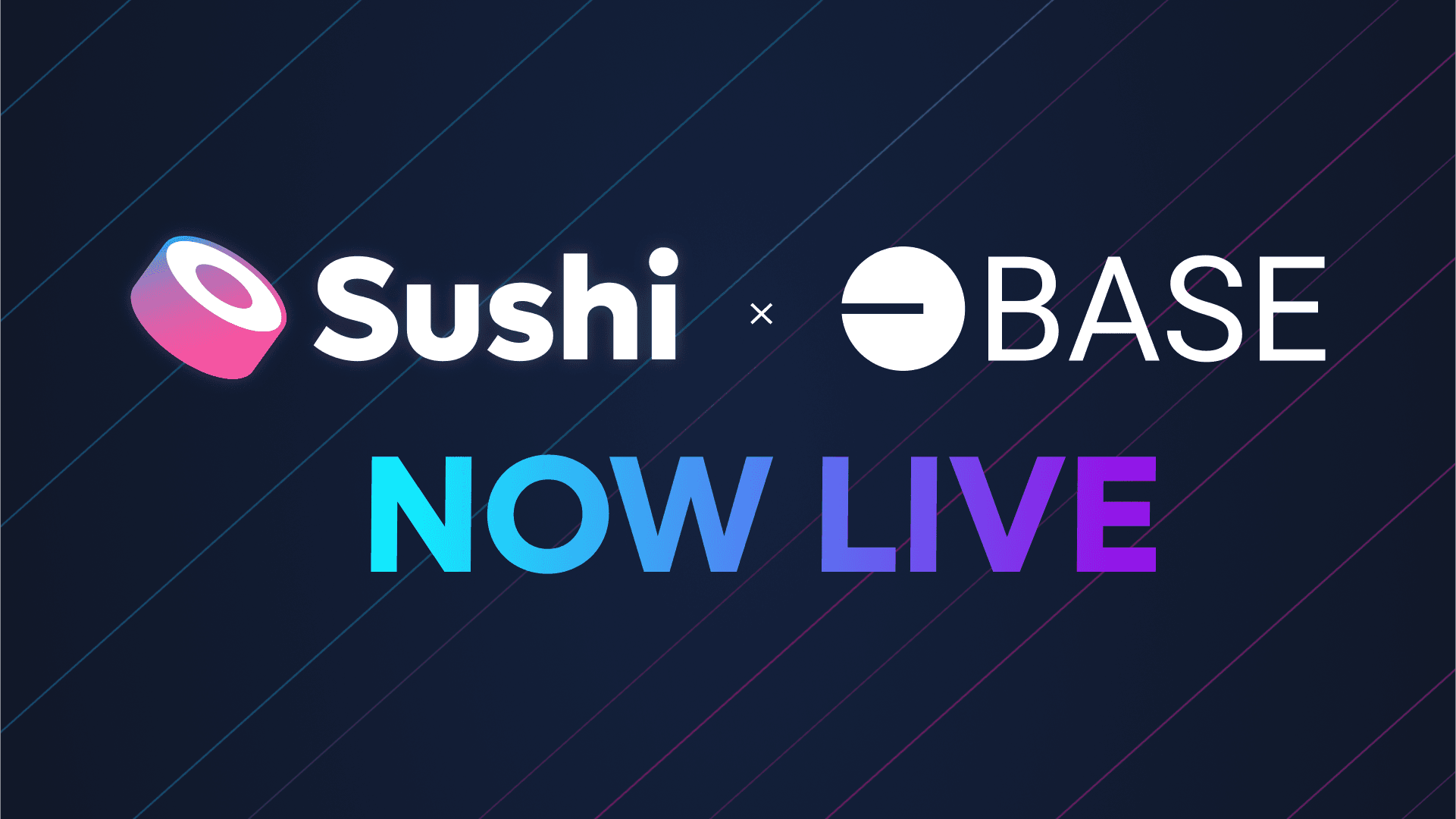 It's official! We are excited to announce that Sushi is now live on Base, the Ethereum Layer 2 (L2) blockchain designed for accessibility, security, and scalability, incubated by Coinbase. Sushi is one of the leading multi-chain DEXes on Base with nearly 30 chains deployed, allowing users to trade and swap tokens across Base and other networks!
Introducing Base - The Ethereum L2 Solution
Base operates as an Ethereum L2, offering crucial security, stability, and scalability for decentralized applications (dapps). It empowers protocols to confidently deploy any EVM codebase and onboard users and assets from Ethereum L1, Coinbase, and other interoperable chains.
Base is built on the open-source OP-Stack, with the belief that the foundational technology for the future should be a public good. It lets users access the complete EVM environment at a reduced cost.
Additionally, the integration with Coinbase grants decentralized apps seamless access to Coinbase's products and distribution within the Coinbase ecosystem.
Sushi X Base: Further Expanding the Cross-Chain D'EXperience!
As one of the leading multi-chain DEXes on Base with the most chains deployed, Sushi brings v3 Concentrated Liquidity Pools AMM with the built-in Sushi DEX Aggregator to the network. Sharing Base's vision of interoperability, Sushi is integrated with Squid Router powered by Axelar, empowering users to effortlessly swap assets across chains. Looking ahead, users will soon be able to swap tokens between Base and other chains on Sushi natively, unlocking a new level of deep liquidity D'EXperience.
Moreover, as a continuous effort to improve the LP experience, Sushi provides smart v3 Automated Liquidity Management (ALM) solutions, primarily focusing on Ethereum-based L1 and L2 networks, collaborating with partners like Steer Protocol, who has just extended their offering to support Base.
How to Engage with Base via Sushi?
🌉 Bridge
Bridge your assets from Ethereum to Base using:
The BASE bridge: Instruction
🔄 Swap
Once your wallet is funded, experience swapping on Base with axlUSDC, the wrapped, interchain USDC by Axelar, as well as axlDAI, USDbC (USD base Coin), ETH, WETH, AXL, along with other trending tokens, providing a total of 15+ tokens available for swapping with more coming soon.
💧 LP (Liquidity Provision)
You can provide liquidity to existing pools or create new ones.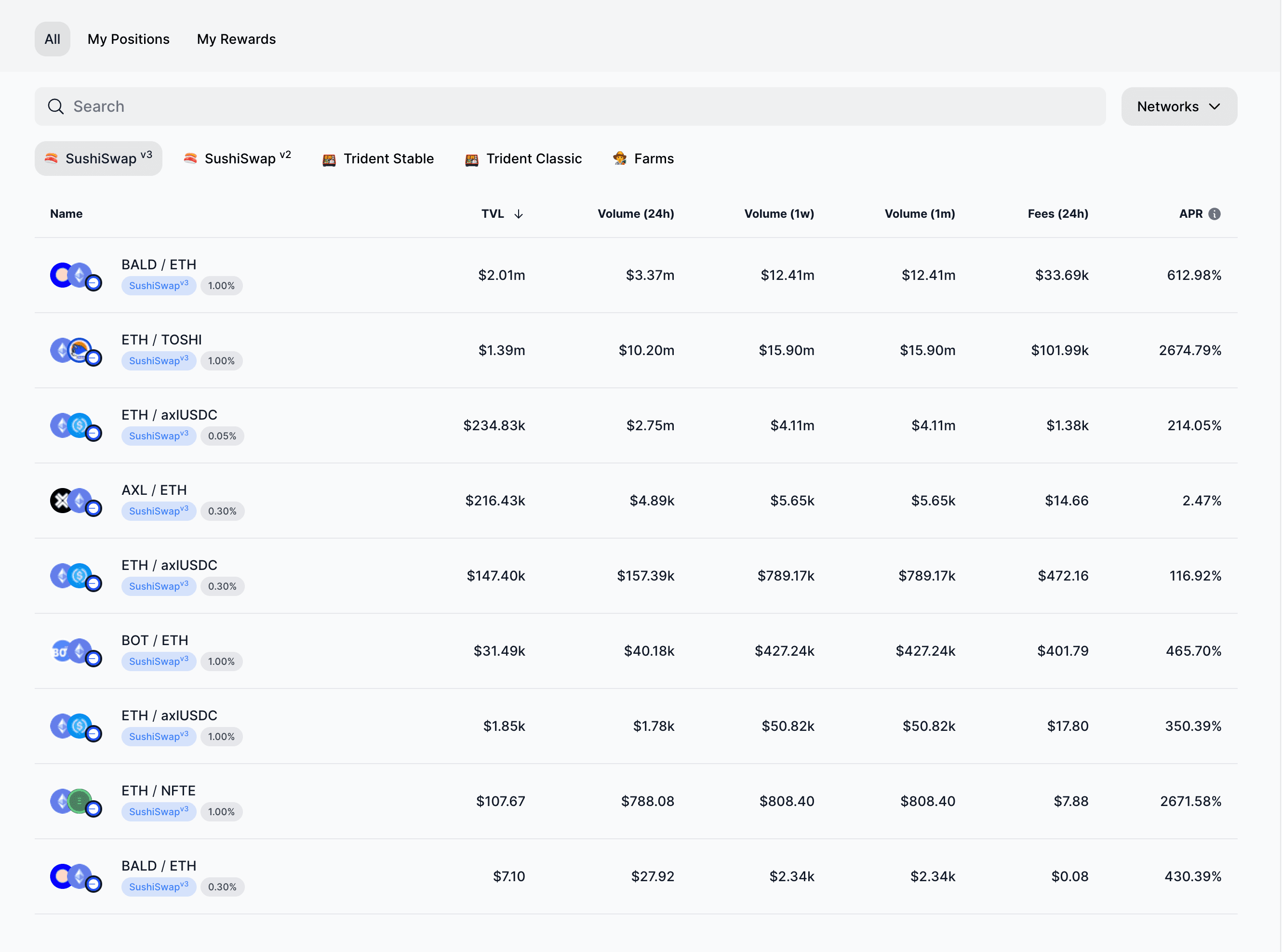 Still curious how to bridge assets to Base, swap and LP on Sushi?
See the full tutorial here: Link
🎆 Get the "Base x Sushi 💣 Bomb Diggity💥 NFT"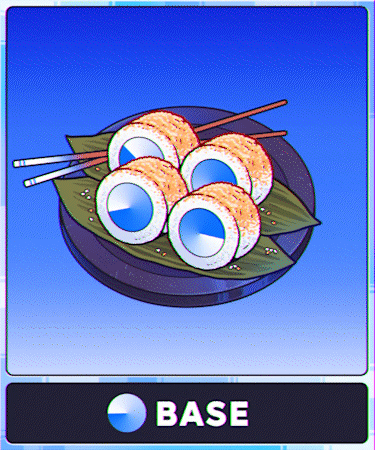 To celebrate the Sushi x Base integration, we are dropping the "Base x Sushi Bomb Diggity NFT", made with love by our "Multi-chain Sensei", as part of the "Sushi Multi-Chain Feast" Campaign!
Every eligible participant who complete all the tasks will receive a limited edition NFT! Get the full collection of "The Sushi Multi-chain Feast" NFTs in the next few months for every chain we deploy on, and enjoy more surprises!
How to participate:
Follow Sushi on Twitter
Follow Base on Twitter
Like the announcement tweet
Retweet the announcement tweet
Swap at least $10 worth of any tokens on Base via Sushi
Add at least $10 worth of any pool on Base via Sushi
Join now on Galxe: Link
Tutorial: Learn how to bridge assets, Swap & LP on Base via Sushi: Link
Note: Please make sure to use the correct links and follow all instructions carefully to be eligible for the limited edition NFT and other surprises.
If you have any questions, please feel free to reach out on Discord or Twitter. Get started now.
Important Links:
Exchange & XSwap | Docs | Discord | Twitter | Telegram | Newsletter | Youtube | Tutorial | Github