Sushi Integrates Transak Fiat Onramp
Use the Transak fiat on-ramp directly from the Sushi app
Date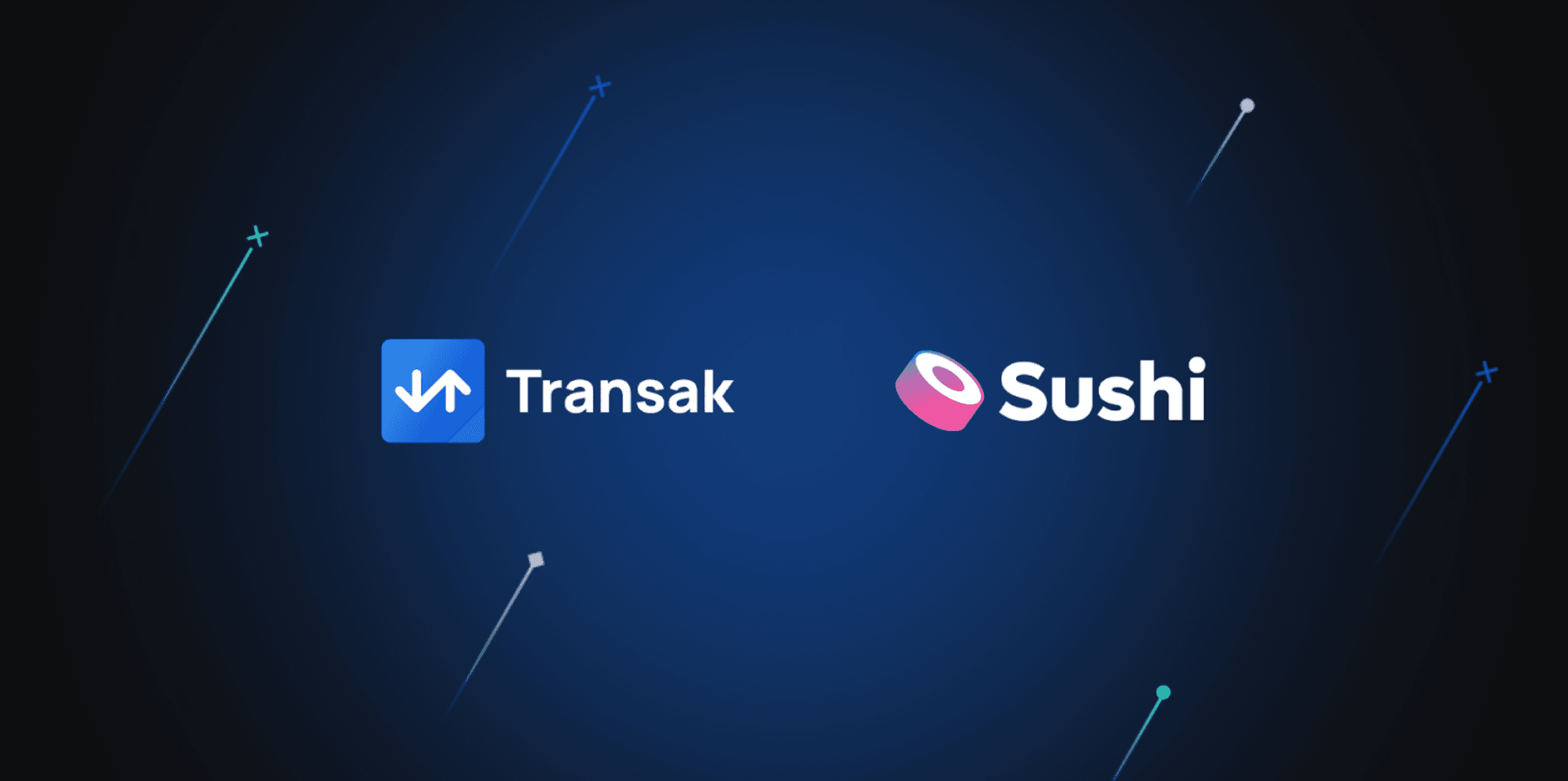 Today we are pleased to announce that we have partnered with Transak to integrate their fiat on-ramp into the Sushi app! Sushi users can now buy 130+ cryptocurrencies directly from the Sushi app homepage using any of the 21+ local payment methods supported, from almost any country in the world. This is a quality-of-life improvement that has been a long time coming, and we're proud to take this step in continuing to offer our users easier and easier access to DeFi. Let's learn how it works!
---
Fiat On-ramp
At its core, the integration is simply a fiat on-ramp for buying cryptocurrency directly via credit card, debit card, Apple Pay or Google Pay - any of these options can now be used to purchase a vast number of supported cryptocurrencies, which number in the hundreds at the time of writing. The current user experience for purchasing tokens in DeFi is arguably broken: users must first visit a centralized exchange (such as Coinbase, Binance, Kraken, etc.) to enable utilizing traditional means to purchase cryptocurrencies, which then they usually move to another wallet (such as MetaMask, TrustWallet, Ledger, etc.) to then, finally, be able to use those freshly bought funds across DeFi protocols. This cumbersome process is one that many of us have had to get used to out of necessity, but is also one of the main blockers in onboarding massive amounts of people to the space.
---
Buy Buy Buy
The process of purchasing crypto via the Transak fiat on-ramp is extremely simple and intuitive. At the top of the homepage, you will see that there is now a Buy Crypto option located next to the Swap and Earn tabs, as noted in the picture above. Once you select the Buy Crypto tab, you will immediately be routed to Transak's payment page, where you can then input the currency you wish to pay in, the method of payment (credit/debit card, Apple Pay, Google Pay) and the token you would like to receive, all conveniently in one spot. The modal to purchase will look similar to the below:
Note: If it is your first time using Transak, users will need to complete a Know-Your-Customer (KYC) form in order to utilize it
---
How Does It Work?
From a technical standpoint, integrating the Transak on-ramp changes absolutely nothing about the Sushi app or any of its underlying contracts; the only difference users will see is the Buy Crypto option on the user interface. Our developers simply integrated the Transak SDK, which enables the on-ramp to function without interacting with anything else in the codebase. The way a transaction works on Transak can be broken down easily into a few simple steps:
The user places an order in their preferred fiat for their crypto of choice and selects a payment method
If this is the user's first time buying via Transak, the user goes through Transak's streamlined KYC process
Transak takes a fiat payment from the user
Transak converts it to crypto and sends it to the user's wallet
All users must do afterwards is navigate back to the Sushi app and then can begin trading and utilizing the Sushi suite of products with the new funds immediately!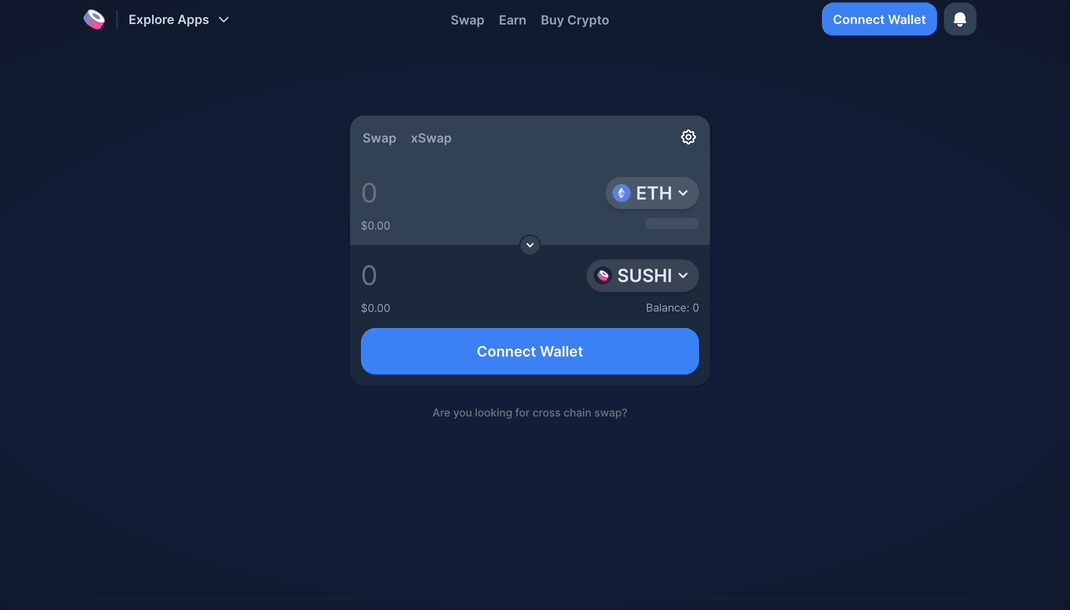 *This is a reference image that serves as an example of the action to be taken
---
In addition to Transak, there are several other fiat onramps available. Here is a curated list of alternative options:
Coinbase
Onramper
Moonpay
Binance
Crypto.com
Kraken
Simplex
If you have any additional questions/comments/concerns, as always please hit up our Samurais in the Discord or let us know via Twitter!
Additional Readings:
---
Sushi is building a comprehensive DeFi ecosystem with AMM, leverage & margin trading platform, token launchpad and NFT artist platform. Follow our socials to keep up with our product launches and find out more on how you can make the most of your cryptocurrency assets with Sushi's secure and powerful DeFi tools!
Exchange & XSwap | Kashi | MISO | Docs | Discord | Telegram | Youtube | Tutorial | Github