The DeFi Kitchen Hackathon Results
Sushi x EthDubai and the judges of each sponsoring partner announce winners!
Date
Become a crypto chef with SushiSwap! Sushi is one of the most used and reliable decentralized exchanges, deployed across 10+ blockchains and supporting thousands of tokens. You can trade, earn, stack yields and safely move assets across chains, all on one decentralized, community-driven platform. Welcome to the home of DeFi: Sushi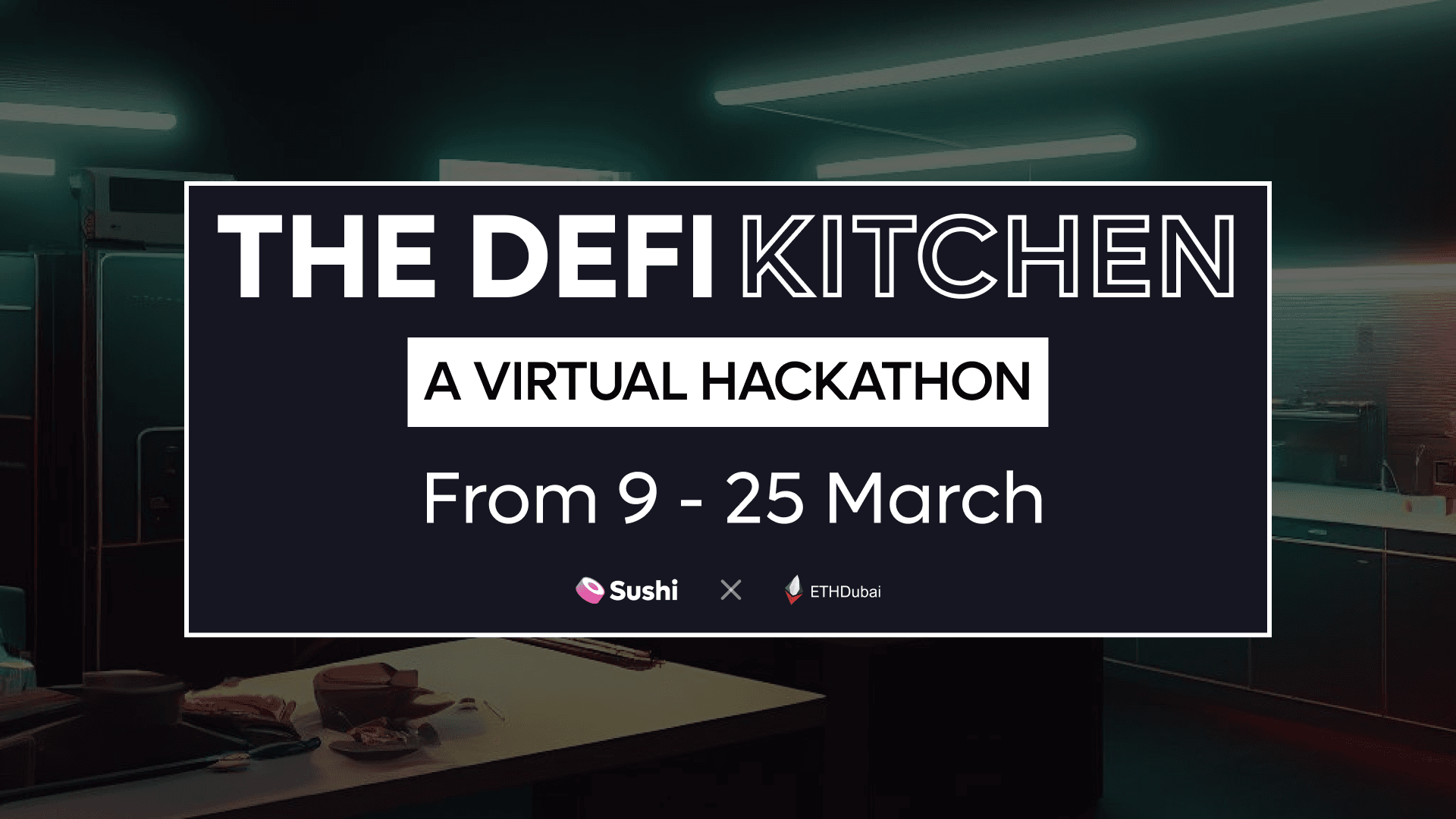 💡What is the DeFi Kitchen?
On the 9th of March we held our inaugural industry event. This industry event & hackathon was organized to provide an opportunity for the community to come together and learn about everything that's happening in the crypto space 🚀 We assembled a fantastic selection of A-list speakers/panelists from a variety of backgrounds, including representatives from well-known DeFi protocols, institutions and project founders.
📺 The virtual event: you can rewatch a replay of the event and panels on Sushi's Youtube.

👩🏻‍💻 The hackathon: focused on the developer audience to cook up innovative solutions and features on several different protocols. We joined forces with ETHDubai to collaborate on a variety of technical workshops and a big prize pool 💸
---
📊 First, Some Stats..
We would like to express our sincere appreciation to all participants for entering this hackathon. Your dedication, creativity, and work were inspiring and did not go unnoticed. A great deal of the work produced was impressive, and we were thrilled to see the incredible solutions developed to solve complex problems in DeFi. Your contributions showcase the ingenuity and talent within our community, and we are grateful for you to have been a part of this event.
🗓️ Hackathon duration: 9 - 23rd March 2023
💰 Total amount in prizes: up to $84,500 in USD value
👩🏻‍💻 No. of participants: 400 hackers!
🤝 No. of sponsors: 13 amazing projects
& A special thanks to ETHDubai for helping us set-up and organize the hackathon 🔥
Once again, thanks to all participants for your commitment to advancing crypto and for making the hackathon such a great success 🙏🏻
📜 See the full list of the amazing submissions.
---
⚒️ Judging Process
All of our judges have followed a systemic set of judging criteria to make the judging across projects as fair as possible. The following criteria were taken into account for all projects submitted:
🔸 Decentralized: How decentralized the tech really is.
🔸 Polishing: How clean is the code and how polished is the UI?
🔸 Originality: Does it bring something new or some nice addition to existing tech?
🔸 Timeliness: Additional points have gone to teams that submitted their work by the deadline before extension (16th March)!
It is important to note that each sponsor retained the right to allocate the total amount of prizes at their own discretion. Each sponsor had the right to deduct or add to the allocation of prizes depending on criteria like:
How well a team followed the rules according to the docs/description.
The way the project has been submitted.
The right to opt into a 'no payout' if none of the submissions fit the described task.
Any submission was able to win more than 1 category/sponsor.
---
🥁 ...Now Onto The Results!








No prizes given as none of the submissions built on Sonic as described in the docs.


No winners were chosen by this sponsor.

No winners were chosen by this sponsor.
---
⏳ More To Come
Due to the large volume of applications we need a bit more time selecting winners, please be patient while we wait for the answers from the remaining sponsors! We'll be updating the winners from the following sponsors in this blogpost as well as on Devpost so keep an eye out on both.
Awaiting results from:


---
💰 How To Claim Your Prize
To avoid impersonators emailing/DMing the judges/projects directly we have the following procedure in place:
All sponsors that selected the winners have access to the email of the winners.
Sponsors are responsible for sending the prizes.
Sponsors will reach out to you and ask for a non custodial (meaning not an address from an exchange, but an address from something like MetaMask or Ledger) ERC20 address where they can send the prize to.
Should you run into any issues feel free to DM us on devpost. We are unable to reply to any messages about prizes outside of devpost because of impersonation risk.
---

Sushi is building a comprehensive DeFi ecosystem with AMM, leverage & margin trading platform, token launchpad and NFT artist platform. Follow our socials to keep up with our product launches and find out more on how you can make the most of your cryptocurrency assets with Sushi's secure and powerful DeFi tools!
Exchange & XSwap | Docs | Academy | Discord | Twitter | Telegram | YouTube | Github