Green Sushi on the menu for all - the first major DEX to reduce carbon footprint!
We're the first major DEX to reduce carbon footprint!
Date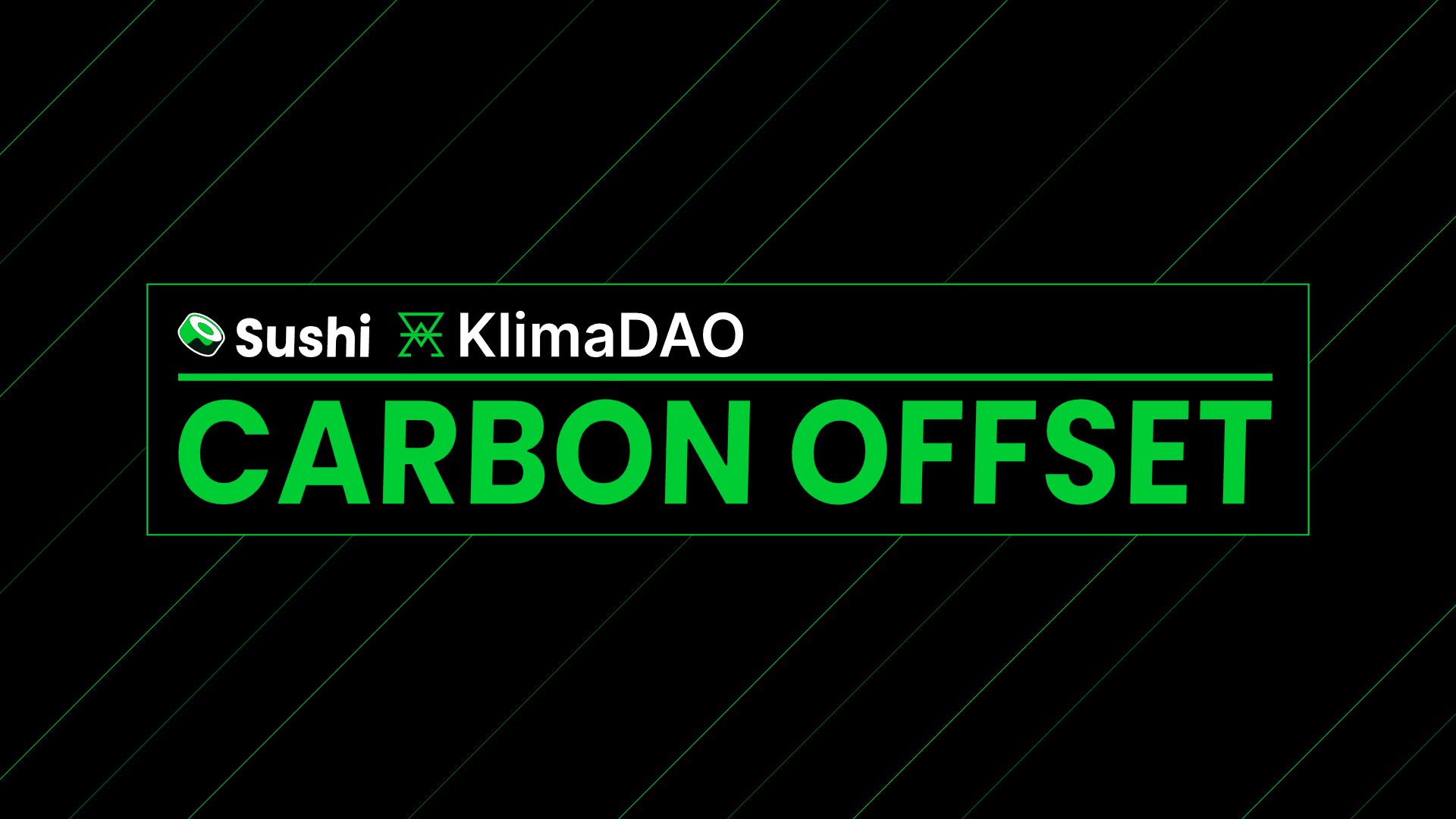 DEXs or decentralized exchanges are the most used application across DeFi; as a result, they are also one of the largest gas consumers on the blockchain. Being one of the largest DEXs in the industry, Sushi is a crucial lever for combatting carbon emissions on the blockchain, it is facilitating one of the world's most liquid carbon market with KlimaDAO, on the energy efficient Polygon network.
Together, we can take SushiSwap's impact further by offseting carbon emissions directly on the platform to compensate for users' unavoidable emissions. It is time to change the narrative. Blockchain technology is uniquely positioned to propel innovative climate solutions forward.. This partnership is the next step in this journey!
Where we are Liquidity is the first step in revolutionizing the current 'Voluntary Carbon Market'. KlimaDAO has chosen Sushi as their primary place for liquidity as a critical part of the on-chain carbon market. At time of writing KlimaDAO owns the first, fourth and fifth deepest pools of liquidity on Polygon.
Total emissions in Polygon as of July 12, 2022: 301.13 tonnes Total emissions in Ethereum Mainnet till July 12, 2022: 114,845.24 tonnes Total emissions so far: 115,146.36 tonnes
Source: KlimaDAO uses Carbon.FYI methodology for calculating Ethereum mainnet emissions. Their work has been featured in the Crypto Climate Accord, among a number of other publications. The Polygon emissions are calculated using the methodology worked on with Offsetra for Polygon's emissions analysis. Read more about it here: https://www.klimadao.finance/blog/polygon-pos-emissions-analysis
---
What's next
A proposal to implement automated offsetting into each transaction via Sushi on Polygon has been submitted. We will form a close partnership with KlimaDao and their developers to tie Sushi into the Klima Infinity tooling infrastructure; allowing users and protocols to have a one-click solution to offset their utilization of the platform.
About Klima Infinity
Klima Infinity is a suite of tools enabling corporations and individuals to source, retire and hold custody over carbon credits natively on the blockchain in a transparent manner, allowing for the showcase of their positive climate impact. Organizations and individuals can go beyond carbon neutral: not only can they offset their current and historic carbon emissions, they can be a participant of the Web3 carbon ecosystem and help catalyze finance into high-impact sustainability projects globally.
About KlimaDAO
KlimaDAO's vision is to embed the cost of carbon emissions into the crypto economic system through the creation and governance of a carbon-backed currency, aligning incentives between investors, civil society, and organizations. Since launching in October 2021, KlimaDAO has brought over 18M tonnes of carbon on chain, and has established Polygon and Sushiswap as the official liquid blockchain carbon market where tokenized credits can be traded by anyone.
If you have any additional questions or would like to chat with the team on how you can help to offset carbon emissions - hop on to our Discord and drop us a message!
—
Sushi is building a comprehensive DeFi ecosystem with AMM, leverage & margin trading platform, token launchpad and NFT artist platform. Follow our socials to keep up with our product launches and find out more on how you can make the most of your cryptocurrency assets with Sushi's secure and powerful DeFi tools!
Exchange | Kashi | MISO | Docs | Discord | Twitter | Telegram | YouTube | Tutorial | Github