Sushi Integrates With BitTorrent Chain
Sushi's AMM is now live on the BitTorrent Chain!
Date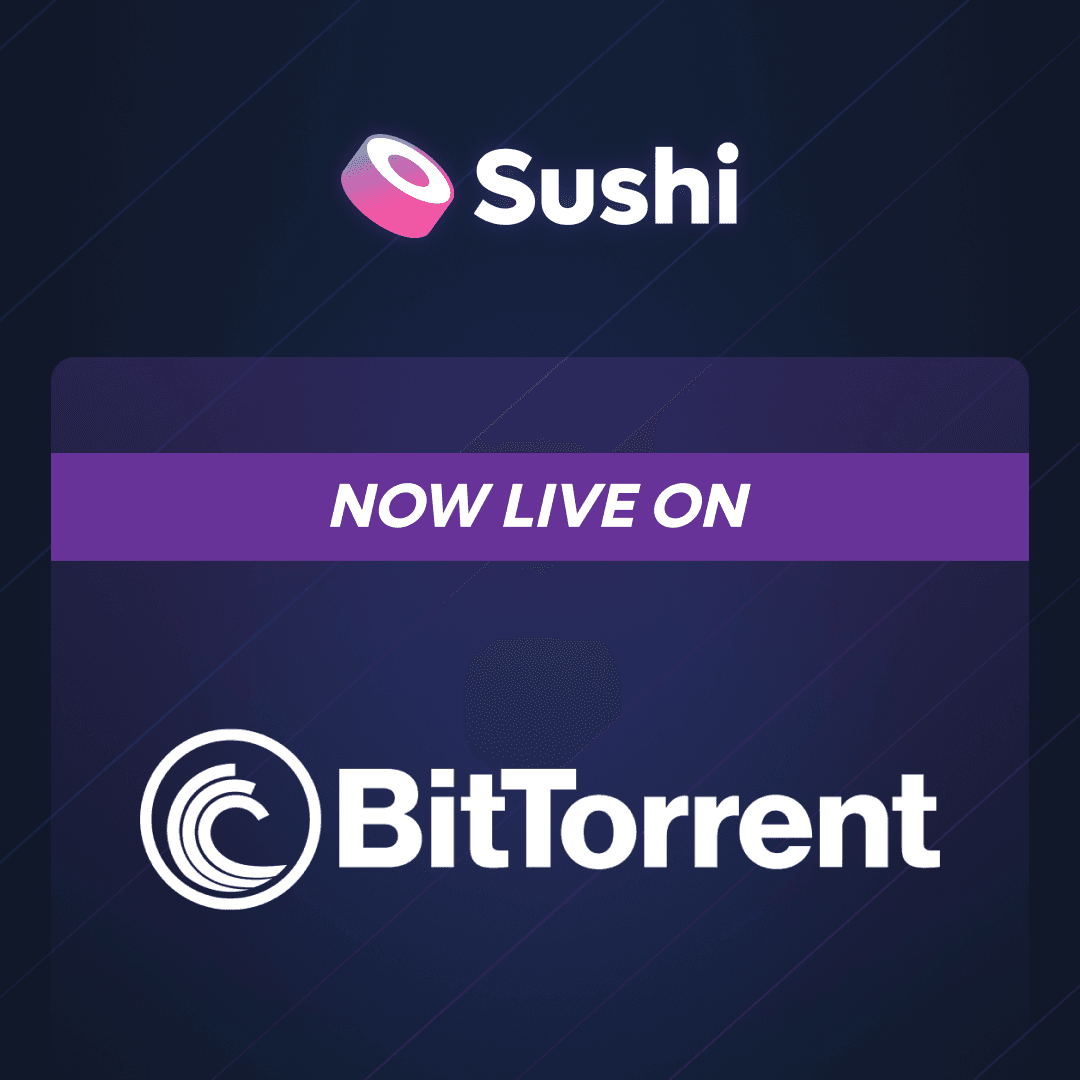 Today, Sushi is pleased to announce that we've launched our AMM on the BitTorrent Chain (BTTC)! BTTC is a Layer 2 scaling solution that brings quick and cheap transactions along with full interoperability between Ethereum Mainnet, Binance Smart Chain (BSC) and TRON. Now you can swap and trade your favorite tokens using the familiar Sushi UI on BTTC!
---
What Is BitTorrent Chain?
BitTorrent Chain is an exciting project run by the smart folks over at TRON, touting cheap transactions with blazing speed. They utilize a Proof-of-Stake (PoS) consensus mechanism, incorporating validators staking their own money, the native BitTorrent Token (BTT), to secure the chain and keep it decentralized (earning up to over 15% APY at the time of writing). However, the BitTorrent project has actually been around for quite some time now, starting as a peer-to-peer platform for sharing data, files and bandwidth in the early 2000s. With their acquisition by the TRON Foundation in 2018, they have since entered the web3 arena with their BTT token (a TRC-10 token; the TRON standard), the native gas token for the network, and using it to incentivize users to keep the network safe via validators while also allowing for them to be staked for rewards and used for governance. The BTTC mainnet was launched in December 2021 with the purpose of being the first heterogeneous cross-chain interoperability protocol.
BTTC is fully compatible with Ethereum and its protocols, and allows for a single click migration of smart contracts, making sure any projects looking to launch there or teams looking to build there can do so, quickly and efficiently. In addition, they also have their own wallet, which allows for the cross-chain transfer of assets safely between Ethereum Mainnet, BSC and TRON, with more chains in the pipeline to be added.
---
Sushi On BitTorrent Chain
We will be releasing our AMM platform on BitTorrent Chain, providing an easy way for users of the chain to trade and swap cryptocurrencies. Followed by (within a week or two!) our liquidity pools and Onsen farms. As with all of our previous releases on various chains, nothing else will change - you will now simply be able to switch to BTTC from our networks tab and can begin interacting with it from there.
We are excited to be able to bring this functionality to our users, and look forward to collaborating with BitTorrent Chain on future endeavors.
If you would like to learn more about BitTorrent Chain, consider checking out the following links:
---
Sushi is building a comprehensive DeFi ecosystem with AMM, leverage & margin trading platform, token launchpad and NFT artist platform. Follow our socials to keep up with our product launches and find out more on how you can make the most of your cryptocurrency assets with Sushi's secure and powerful DeFi tools!
Exchange & XSwap | Kashi | MISO | Docs | Discord | Telegram | Youtube | Tutorial | Github