Next steps looking for Sushi's Head Chef
Leadership & Executive talent search - clarification on process and next steps.
Date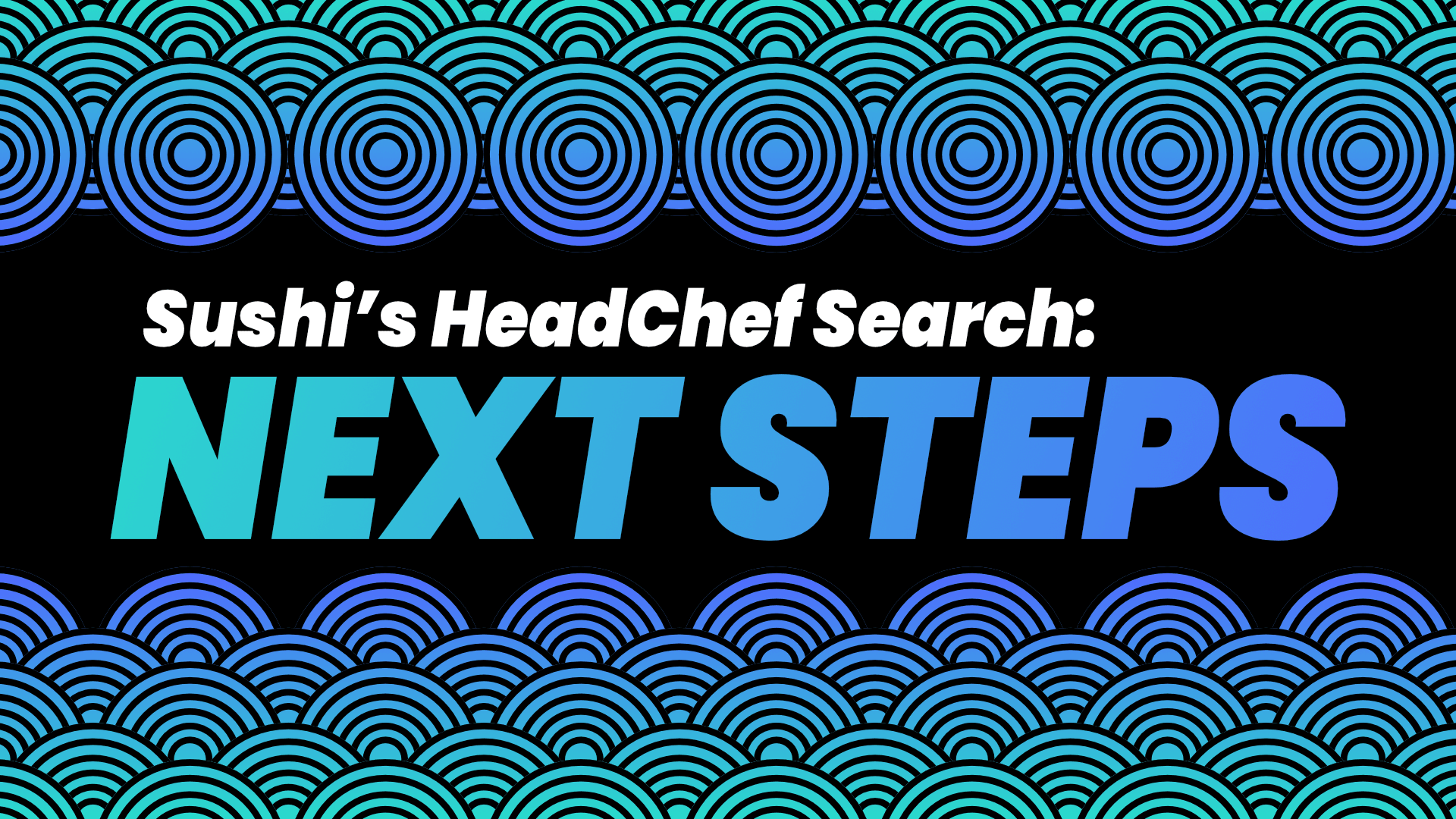 As mentioned in the article "Searching for a Sushi Head Chef" released a few months ago. We've made an explicit commitment to finding, evaluating, and undertaking a formal leadership search across the entire Sushi organization. We believe that the road ahead is best approached with continuity from the existing team & a commitment to embracing fresh talent, perspectives, and contributors. We believe the road ahead for Sushi 2.0 includes great executive talent joining Sushi.
Today we want to propose the next steps to continue this processes and narrow down the list of candidates to a final 3. Here's the TLDR:
Final Head Chef open invite AMA: 1st of Sep on the Sushi Discord.
Candidates are asked to write a proposal from team & community questions.
Then we'll do a signal snapshot to narrow down the candidates to top 3 (multi-option vote, where sushipowah can be spread across multiple options).
The final 3 candidates will be able to elaborate and defend their strategies and views in a debate.
Final snapshot vote.
Please keep reading to learn more about the details, if you have any additional suggestions don't hesitate to jump onto the Discord and let us know!
---
Who?
The leadership & exec talent candidate pool is sourced through:
the community
through the team
through token holders
or through self nomination in Sushi discord & forums
---
The Next Steps:
1) Sushi Open AMA Forum Calls
2) Questions From the Team & Community
We think a logical next step would be for the potential head chef to answer some of the most pressing questions from both the team and community to better understand where they are in terms of vision, strategy and how they'll approach this practically.
The team suggest the following format (subject to change):
The team proposes 3 questions for the candidates to prep and answer (see below).
2nd Sep: The team put up a poll for the most asked community questions on the Forum. The top 3 from the poll will have to be answered by the candidates.
6th Sep: We will close the forum post and relay the top 3 community questions in the #head-chef-talk channel on Discord.
(5th Sep: Compensation package signal vote.)
8th Sep at 1pm UTC: The candidates publish their answers on the forum and share a link in the #head-chef-talk channel in Discord. The candidates are not allowed to edit their proposals after this time.
12th Sep: An implementation snapshot proposal will be pushed online for governance to give a 'yay' or 'nay' vote on the proposed final steps.
.
Questions From the Team:
Longevity: How does Sushi get to a state where the protocol can operate efficiently in a decentralized way? This includes: 1) how the protocol can operate efficiently in the following areas: product development, funding requirements, decentralizing operational processes, collab/competing with other projects in the space. 2) fee/rake alignment to ensure Sushi can last and fund future development for the long haul. 3) Legal: what would be your plan for managing the contributors through a legal entity? and 4) Management Philosophy: how would you organize and manage internal resources, what teams or functions would you prioritize (and how) to achieve max efficiency and focus?

Governance improvement & party alignment: How do we achieve better alignment among the various parties (community stakeholders) that represent Sushi? e.g. Better voter turnout, cleaner processes & alignment among the different parties, and increased engagement from all sides on the forum/discussions into the future of the protocol.

Development Contribution: How can we increase and better incentivize external product development? E.g. Kashi, Bento and Miso were built by external devs, however neither of these products had a revenue model that benefited both Sushi and the founding dev fairly. We'd like you to come up with a model that is going to support both Sushi and the developer.
3) Final Debate & Final Steps
Weeks of September 12th & September 19th: candidates will have the opportunity to meet directly with the Sushi Team & additional community members to pitch their candidacy. Additionally, continued campaigning and candidate discussions will take place in the Sushi discord
22nd Sep 5pm UTC: All 5 finalists get a chance to debate and defend their answers to team & community questions during the #97th Sushi Forum Call.
26th Sep: Final Implementation Snapshot - final governance vote on 1 out of 5 for becoming Head Chef of Sushi.
A winner is chosen by the community.
---
Compensation Package Next Steps
Per the Head Chef Compensation forum temp check we will proceed to hold a signal snapshot vote on the 5th Sep.
Depending on the outcome, assuming all items are immediately agreed on, we will then proceed to implementation snapshot of both Compensation Package + Head Chef.
If some of the items don't show a clear consensus, we'll check in with the key stakeholders and try to work out a solution as soon as possible.
---
As always, if you have any questions please direct them towards our Samurais in the Discord - they will gladly help out. Keep an eye on the SushiSwap Discord and Twitter for all of the most up-to-date news on current and future releases!
Exchange | Kashi | MISO | Furo | Docs | Discord | Twitter | Telegram | YouTube | Tutorial | Github