Searching for a Sushi Head Chef
Leadership & Executive talent wanted!
Date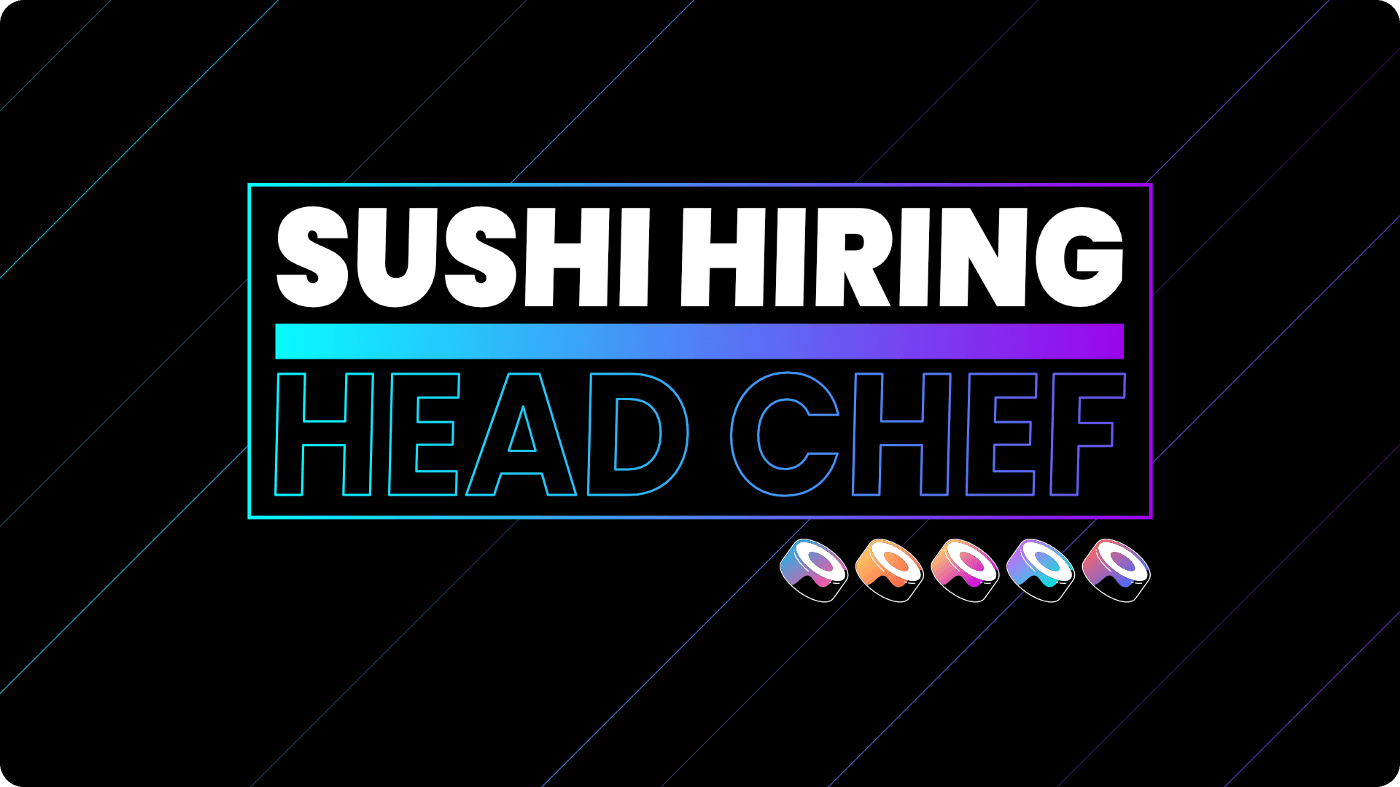 Leadership & Executive talent wanted
We've made an explicit commitment to finding, evaluating, and undertaking a formal leadership search across the entire Sushi organization. We believe that the road ahead is best approached with continuity from the existing team & a commitment to embracing fresh talent, perspectives, and contributors.
This is why Sushi is commencing a formal leadership & executive talent search. We believe the road ahead for Sushi 2.0 includes great executive talent joining Sushi. Over the next 90 days we've ideated a process to allow leadership & executive talent to surface and ultimately be appointed via governance vote. The leadership & exec talent candidate pool will be sourced through the community, through the team, through token holders, or through self nomination in Sushi discord & forums.
---
The Role
Leadership: Head Chef
Role description
We are seeking a Head Chef to lead Sushi into its next chapter. The right candidate will inherit a strong team and foster a positive cultural impact, provide proven leadership to the SushiDAO & Ecosystem, establish a great working relationships with all of the Sushi ecosystem stakeholders, and chart the direction for Sushi.
.
Responsibilities
Provide company wide leadership.
Orchestrate Sushi's long term strategy.
Report to all Sushi stakeholders & community to keep them informed.
Develop and implement operational policies and a strategic plan.
Act as the primary spokesperson for the company.
Develop the Sushi's culture and set the overall company vision.
Help with recruiting new staff members when necessary.
Create an environment that promotes great performance and positive morale.
Oversee the company's fiscal activity, including budgeting, reporting, and auditing.
Oversee all Sushi functional groups & business units.
Consult & execute Sushi's legal strategy
Recruit & build out a comprehensive executive team.
Facilitate partnerships within the tech & crypto ecosystem.
Serve as the figurehead to bring the storied Sushi into the future.
Preferred requirements
Crypto or tech native.
Experience in a senior management position.
Experience with treasury & cash flow management, and general finance and budgeting.
Ability to build consensus and relationships among executives, partners, and the workforce.
Corporate strategy experience.
Implementation of human resources and personnel management.
Experience with crypto governance.
Ability to create an open & transparent Sushi working environment
Familiarity overseeing multiple departments (Engineering, Product Design, Support, HR, Ops, Marketing, Business Development)
---
How?
The leadership & exec talent candidate pool will be sourced through:
the community
through the team
through token holders
or through self nomination in Sushi discord & forums
We have set-up a process to vet candidates and allow them to meet various stakeholders (team, investors, engaged community members) and evaluate for a strong mutual fit.
.
Process
Phase 1
Candidate is nominated (either by team, by investors, self nomination)

Candidate prepares resume, vetting, & due diligence material for both tokenholder base & team.

Candidate vetting process by stakeholders.

Candidate moves on to Sushi team vetting.

If positive candidate enters phase 2 of the hiring process.
Phase 2
Candidate to formalize comp expectations & doing their own homework on legal, etc.

Candidates can join all hands, do their own diligence on the product, observe team workflows, and have increased access to interact with the entire Sushi team.

Candidate may prepare or share any detailed ideas, game plans, etc. with the team & large stakeholders.

If all sides are positive, formal negotiations & hiring decisions will be made.
---
As always, if you have any questions please direct them towards our Samurais in the Discord - they will gladly help out. Keep an eye on the SushiSwap Discord and Twitter for all of the most up-to-date news on current and future releases!
Exchange | Kashi | MISO | Furo | Docs | Discord | Twitter | Telegram | YouTube | Tutorial | Github