Sushi Now LIVE on Kava!
Swap, add liquidity and create your own pools now
Date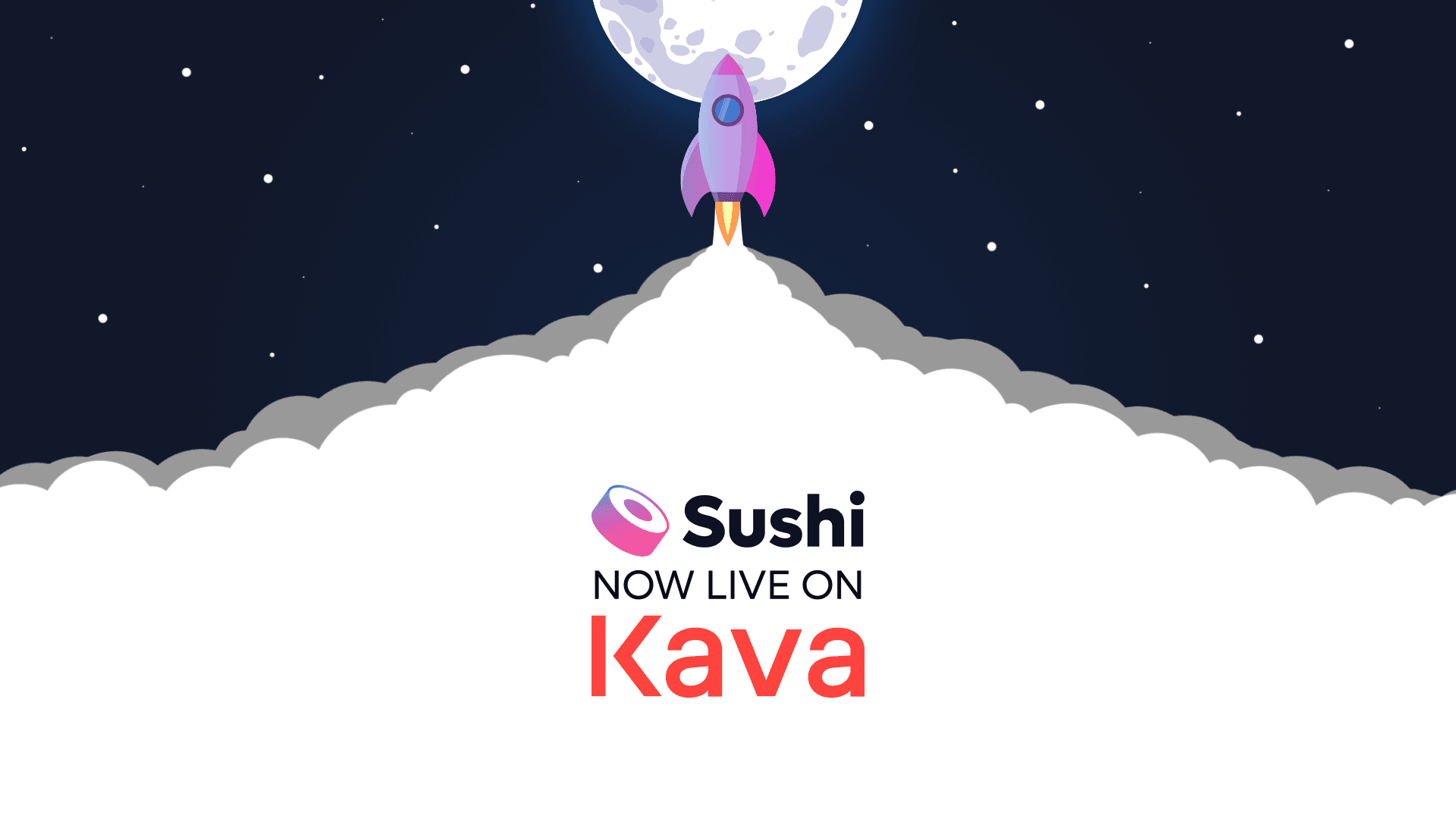 Hey there, us again with another exciting announcement - we are pleased to present a duo of our most popular and used products - Trident AMM and BentoBox - both on Kava! This means that you can now spin up your own customized pools, utilize Onsen farms, provide liquidity and more on the new chain, all while still using the familiar Sushi UI! Kava is a veteran project in the DeFi space that pivoted to a Layer-1 blockchain at the end of 2021 and has already begun to generate hype, and we're hyped ourselves to play a role in the early, important stages of the chain. Read on to learn about why we're real stoked for this one!
---
Co-Chain
Kava is an incredibly fast L1 blockchain with a unique twist that sets it apart from the rest: it has a co-chain architecture. The smart folks over at Kava Labs (you guessed it, developers of the Kava blockchain) have created a single blockchain that actually leverages the power of two: Cosmos, for its speed and undeniable interoperability, via the Cosmos SDK; and Ethereum, for its flexibility and vast developer base. The Cosmos co-chain enables the Tendermint consensus mechanism and the Inter-Blockchain Communication Protocol (IBC), allowing for proof-of-stake consensus and arbitrary cross-chain messaging features respectively. The Ethereum co-chain enables EVM smart contract compatibility, allowing for the majority of the current smart contracts to be executed in the Kava environment. With a newly released multi-chain Ethereum bridge that allows for the seamless transfer of ERC-20s from the Ethereum mainnet onto Kava and vice versa with Kava-native assets, they are poised to make a large, meaningful splash in the community over the next several months. Indeed, this novel way of approaching blockchain infrastructure and their interoperability has already gotten the Web3 ecosystem buzzing about them, and we believe it is justified. In just a few months, and thanks to the Kava Rise program, Kava has grown into an ecosystem of more than 31 protocols. You can read more about the Kava network, their roadmap and their technical specifications here.
---
New Chain, Same Great Products
Enjoy many of your favorite Sushi interactions on Kava:
Any user can create and participate in their own customized pools using Trident. Simply select the pool type, fee tier, assets and oracle of your choice and launch your pool immediately, from the comfort of your own chair.
Get the most out of your idle assets with BentoBox; as Trident is built on top of it, any funds that are deposited into any pools and/or farms will automatically begin earning yield, on top of any other gains you might be making. An easy win-win!
Additionally, with the launch of Trident on Kava, all other Dapps on the chain can now use our TWAP (time weighted average price) oracles as well!
As with all of our other deployments, the products themselves will remain the same and be familiar to anyone who has used Sushi before; simply switch to Kava from the dropdown in the upper right corner and begin making moves on it immediately. You can check out a list of all of the current Trident pools and Onsen farms on Kava here.
---
Try It Out!
We are grateful to be a part of what we think to be an exciting new blockchain infrastructure, and are humbled to be included as one of the very first DEXes on the chain. We invite all developers and protocols deploying on Kava to set up pools on Trident and leverage its TWAP oracles and other benefits; remember, pools on Trident have the potential to be included as an Onsen farm as well, giving great visibility and incentivizing users to learn more about and use the assets in the pool, with additional $SUSHI rewards on top. As always, keep a close eye on our social channels - we have a ton of things in the works!
If you still have additional questions regarding Trident or BentoBox on Kava, setting up Trident pools, or just want to learn more about everything in general, feel free to slink into the Discord and ask our Samurais for help or visit one of the links below:
---
Sushi is building a comprehensive DeFi ecosystem with AMM, leverage & margin trading platform, token launchpad and NFT artist platform. Follow our socials to keep up with our product launches and find out more on how you can make the most of your cryptocurrency assets with Sushi's secure and powerful DeFi tools!
Exchange & XSwap | Kashi | MISO | Docs | Discord | Twitter | Telegram | YouTube | Tutorial | Github