Just Dropped: Base x Sushi 💣 Bomb Diggity💥 NFT
Get the 2nd NFT Edition in the "Sushi Multi-Chain Feast" Campaign
Date
Welcome to the home of DeFi: Sushi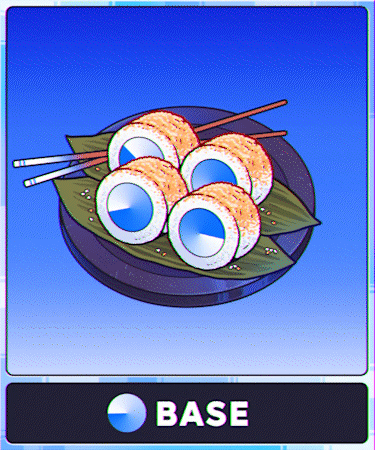 🎆 Get the "Base x Sushi 💣 Bomb Diggity💥 NFT"
To celebrate the Sushi x Base integration, we are dropping the "Base x Sushi Bomb Diggity NFT", made with love by our "Multi-chain Sensei", as part of the "Sushi Multi-Chain Feast" Campaign!
Every eligible participant who complete all the tasks will receive a limited edition NFT! Get the full collection of "The Sushi Multi-chain Feast" NFTs in the next few months for every chain we deploy on, and enjoy more surprises!
How to participate:
Follow Sushi on Twitter
Follow Base on Twitter
Like the announcement tweet
Retweet the announcement tweet
Swap at least $10 worth of any tokens on Base via Sushi
Add at least $10 worth of any pool on Base via Sushi
Join now on Galxe: Link
Tutorial: Learn how to bridge assets, Swap & LP on Base via Sushi: Link
Note: Please make sure to use the correct links and follow all instructions carefully to be eligible for the limited edition NFT and other surprises.