Introducing Sushi's New Head Chef: Jared Grey
Introducing Sushi's New Head Chef: Jared Grey
Date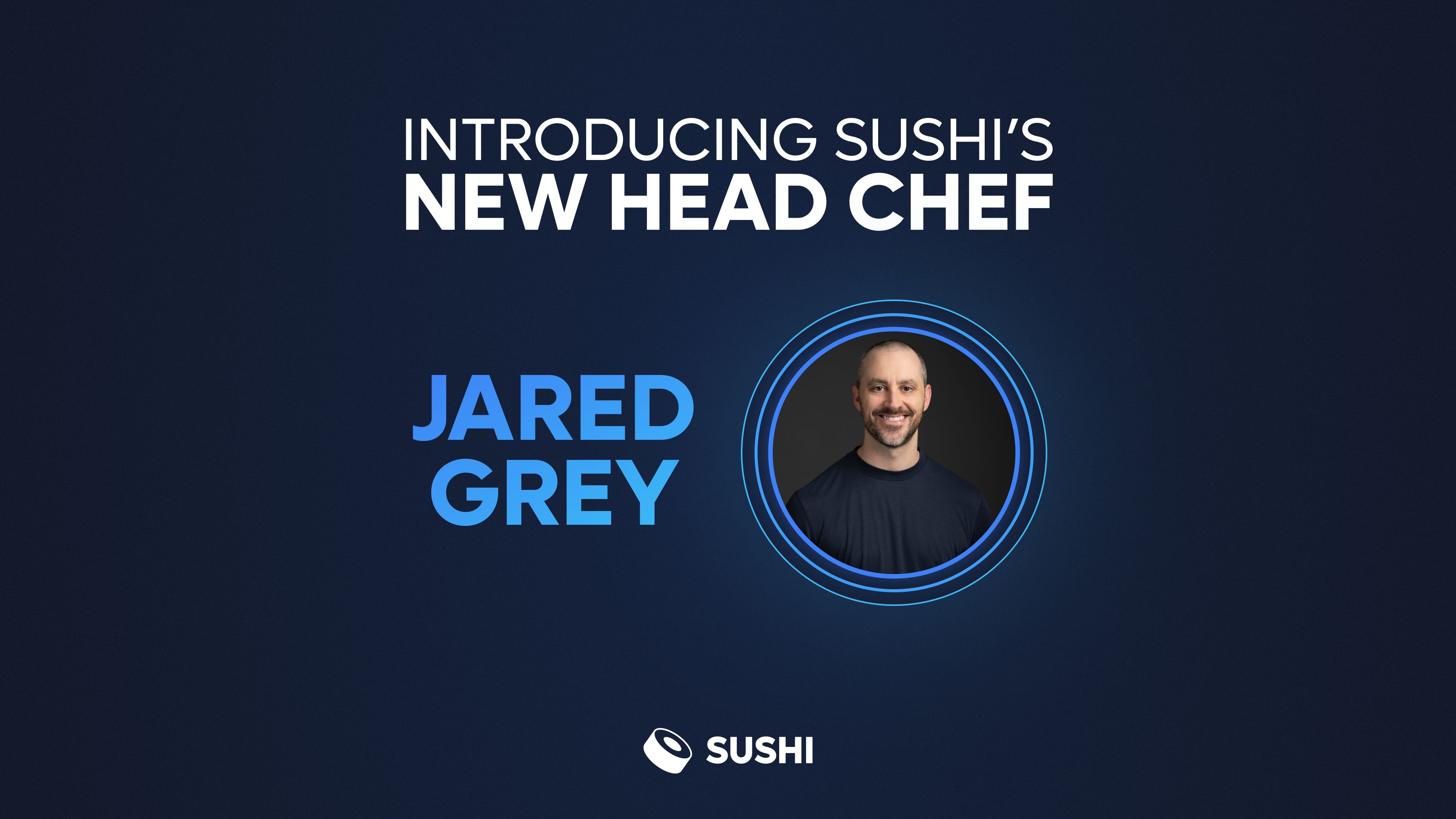 Sushi, Metaverse - October 4th, 7:45 AM UTC
On October 3rd, top decentralized cryptocurrency exchange, Sushi (SushiSwap), announced the official appointment of Jared Grey as the Head Chef to execute and implement Sushi's 2.0 roadmap and vision. In the Sushi 2.0 proposal, the team made an explicit commitment to finding, evaluating and undertaking a formal executive leadership search across the entire organization and beyond. After an extensive search and vetting process, spanning candidates from various backgrounds out of a pool of community- , team- and self nominations, the team was able to narrow down the pool to 5 final candidates. The final candidates went through multiple community AMAs, debates, interviews and a written proposal exercise before making it to the Final [Implementation] Snapshot. The Sushi community has come to a consensus and voter turnout hit a record high of 13M votes, with nearly 11M votes (84%) in favor of Jared Grey.
Ten months after 0xMaki's departure the team is excited to welcome a candidate with the right expertise, experience and the ability to represent Sushi 2.0 best.
Sushi launched in August 2020, briefly overtaking Uniswap by TVL amid the success of a liquidity mining vampire attack that sought to attract liquidity away from the VC-backed AMM.
Sushi solidified itself as a top decentralized exchange in early 2021 under the guidance of a team led by 0xMaki, positioning itself as a decentralized alternative to Uniswap. In September 2021 0xMaki stepped down to an advisory position."
Sushi solidified itself as a top decentralized exchange in early 2021 under the guidance of a team led by 0xMaki, positioning itself as a decentralized alternative to Uniswap. In September 2021 0xMaki stepped down to an advisory position.
---
Sushi 2.0
A few months after 0xMaki's departure Sushi took a tumble because of its lack of operational efficiency and focused attention towards a long-term vision. Internal power struggles followed by a failed Frog Nation takeover left Sushi a shell of its former self. The remaining team was left to keep Sushi running and community members took the lead to sort out the issues and establish a way forward along with a team motivated to keep Sushi alive. What came of those trials was a long-term vision and proposal: Sushi 2.0 Restructuring for the Road Ahead.
The community overwhelmingly passed this proposal on May 11, 2022 with a total of 9.6M in favor. The Sushi 2.0 proposal included a mandate by the community for SUSHI to source a Head Chef. The team immediately orchestrated a leadership search process. Candidates were able to apply or nominate themselves, were put through multiple rounds of interviews, and had the opportunity to meet and interface with major Sushi stakeholders.
---
Meet Jared Grey
Jared Grey (@jaredgrey) is an engineer and a multi-time founder with over 20-years of experience in the technology industry. Jared previously held the position of CEO at EONS, a decentralized ecosystem for financial services - and Bitfineon, a global spot market exchange for buying and selling digital assets. Over his career he's operated on multiple consulting engagements where Jared successfully bid and secured hundreds of engineering, and IT contracts for corporate, domestic, and foreign governments. Several notable consultations include; NASA, US DoD, NOAA, US Navy, and the Israeli Defense Ministry. Jared plans to leverage his experience to help Sushi become more efficient and grow revenue by providing superior DeFi products.
What's next on the Sushi menu?
Now that the Head Chef election process has concluded, it's all hands on deck with the team. The team has been hard at work for several months to deliver on product roadmap items to help position Sushi for its next chapter. Aside from the day-to-day operations, a portion of my focus will be dedicated to monetizing the product stack to help increase revenue for the protocol. Sushi has an excellent infrastructure, and it's my responsibility to communicate its value and potential to the market. - Jared Grey
The Head Chef at Sushi will have unique responsibilities for optimal day to day management of operations. These include but are not limited to:
Define and request an ops budget from the DAO
Strategize and execute on the product roadmap in support of the DAO's wishes
The ability to hire/fire contributors
Define performance metrics
Oversee token holder and community relations
Evaluate team performance on compensation committee
Sushi is in a prime spot with its upcoming releases and a lean, passionate team to deliver great products and help revitalize the business. I'm excited to be part of the journey and help mold the protocol's future. We want everyone to enjoy Sushi again; the bar is open; join us!
---
If you have any other questions please hop into the Sushi Discord so one of our Samurais can assist you: click to join Discord.
Sushi is building a comprehensive DeFi ecosystem with AMM, leverage & margin trading platform, token launchpad and NFT artist platform. Follow our socials to keep up with our product launches and find out more on how you can make the most of your cryptocurrency assets with Sushi's secure and powerful DeFi tools!
Exchange & XSwap | Kashi | MISO | Docs | Discord | Twitter | Telegram | YouTube | Tutorial | Github