Launching Sushi Studios
Learn more about our announcement of Sushi Studios
Date
Become a crypto chef with Sushi (SushiSwap)! Sushi is one of the most used and reliable decentralized exchanges, deployed across 10+ blockchains and supporting thousands of tokens. You can trade, earn, stack yields and safely move assets across chains, all on one decentralized, community-driven platform.
Welcome to the home of DeFi: Sushi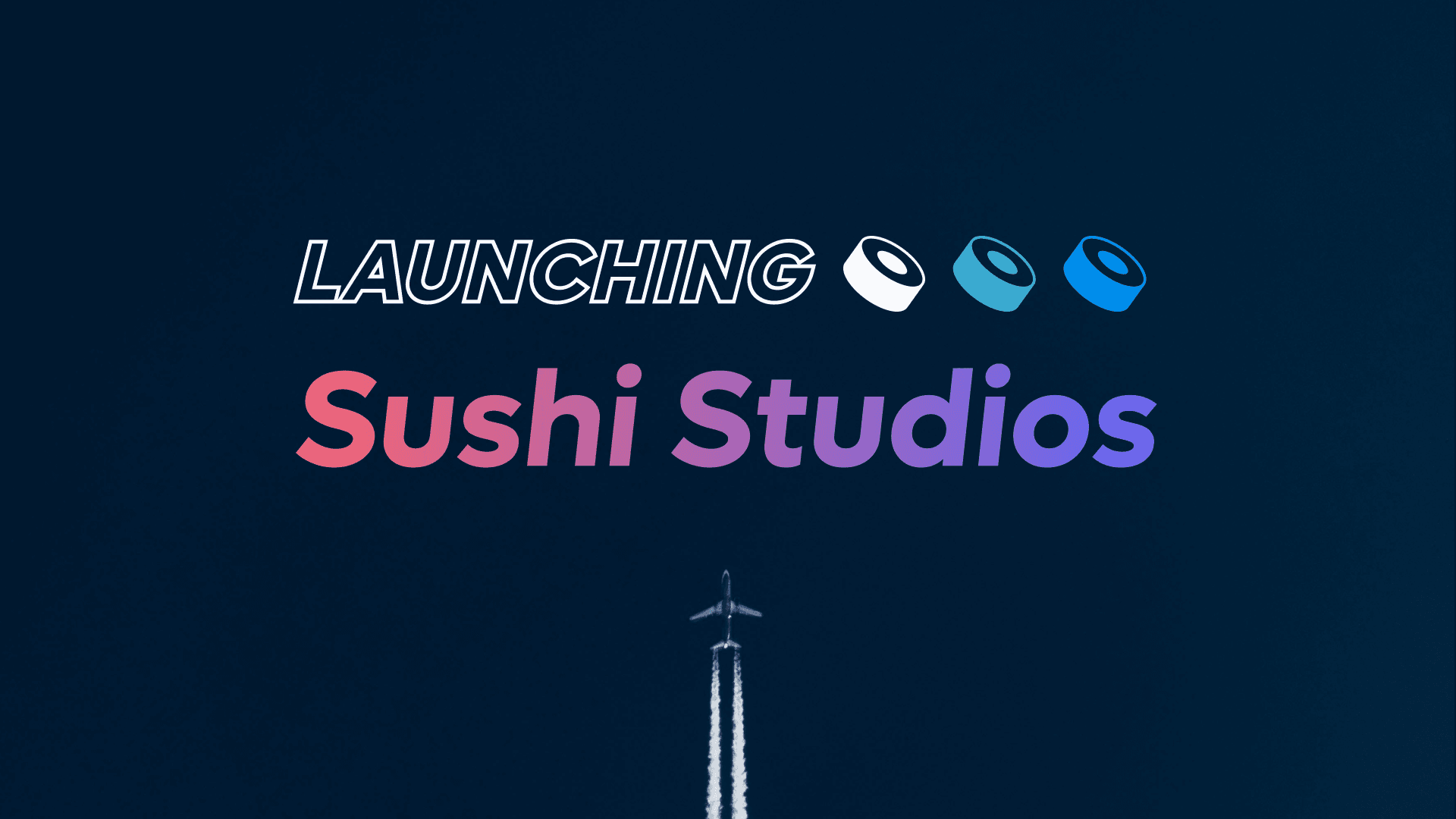 ---
Overview
In the world of Decentralized Finance (DeFi), Sushi has emerged as a leader in the field of decentralized exchanges (DEX). It started off only as a DEX and has now branched to different products that include borrow & lending, launchpad, NFT market places, DAO services and analytics. However, like all successful projects, Sushi faces the challenge of continued growth and innovation with its current DAO set-up that puts continuous strain on the core development team.
In this blog post, we will explore how Sushi plans to overcome this challenge with a new proposed framework called Sushi Studios. A framework to continue horizontal product development without encumbering the Sushi DAO Treasury.
---
Why does Sushi need Sushi Studios?
Historically, Sushi has issued grants from the DAO Treasury to facilitate the ongoing development of its ecosystem. Unfortunately, the current grant system limits Sushi's market distribution & innovative spirit due to its limited capacity. Grants brought us Shoyu, Sushi's marketplace; Kashi, the lending product; MISO, a decentralized launchpad; & several other incubated projects. Yet, these products came at the cost of the productivity & resources of the core product team maintaining the Sushi DEX. Sushi Studios aims to relieve these issues & empower the ecosystem with new & innovative products outside the Treasury's scope.
---
What is Sushi Studios?
Sushi Studios is a novel framework to approach horizontal product development without encumbering the Sushi DAO treasury. Projects in Sushi Studios will receive a royalty-free license in perpetuity for the use of the Sushi brand. Therefore, it should empower teams to create innovative products via its brand, & Sushi DAO will limit grants to initiatives that directly impact the DEX product stack. Simply put, Sushi Studios will give builders access to SushiSwap to provide complimentary products that bring value to the SushiSwap brand, ecosystem, and stakeholders.
---
How Will Sushi Studio Work?
Through licensing the Sushi brand IP, Sushi Studios will give builders access to Sushi to provide complimentary products that bring value to the Sushi brand, ecosystem, & stakeholders. Furthermore, it will aim to subsidize these products through token offerings, equity, revenue sharing, etc., where applicable. In addition, the Sushi community will have access to crowdfunding, airdrops, exclusive token utility, & more.
Goals
Create a more efficient process to empower external product team to leverage SushiSwap brand to develop protocols without requiring SushiSwap Dao Treasury funding
Create an inclusive product ecosystem that brings value to all SushiSwap stakeholders.
Authorize independent token economies, allowing the bootstrapping of liquidity, fundraising, and distribution of new product launches.
Further decentralize the SushiSwap DAO by establishing a complimentary legal entity to empower the SushiSwap DAO to license its brand name and identity.
Maintain the continuity of the SushiSwap DAO to remain autonomous and independent of large capital contributor influence that may hinder its decentralized ethos.
---
Closing Thoughts
Sushi Studios will continue the product growth mission started by the SushiSwap DAO but in a compartmentalized and risk-averse manner to the DAO Treasury by creating a secondary funding approach within a novel licensing framework. It will aid in the distribution of the SushiSwap brand, grow ecosystem value, and promote decentralized product innovation.
Additionally, it will promote a multi-token ecosystem, empower SushiSwap with primitives to build value, and allow external teams to build within a globally established crypto brand representing DeFi's best values.
Sushi Studios represents a new frontier for SushiSwap, providing a framework that enables the continued growth and innovation of the ecosystem without overburdening the DAO treasury. The SushiSwap community can look forward to exciting new developments in the near future.
---
💬 Still have questions?
Hit us up on Discord or on Twitter.
Sushi is building a decentralized, comprehensive DeFi ecosystem complete with AMM, cross-chain capabilities, NFT artist platform and more. Follow our socials to keep up with our product launches and find out more on how you can make the most of your cryptocurrency assets with Sushi's secure and powerful DeFi tools!
Exchange & XSwap | Docs | Academy | Discord | Twitter | Telegram | Newsletter | YouTube | Github
---