Announcing the 30 Lucky Winners of Our Special Birthday NFT Drop
Share $3000 in $SUSHI!
Date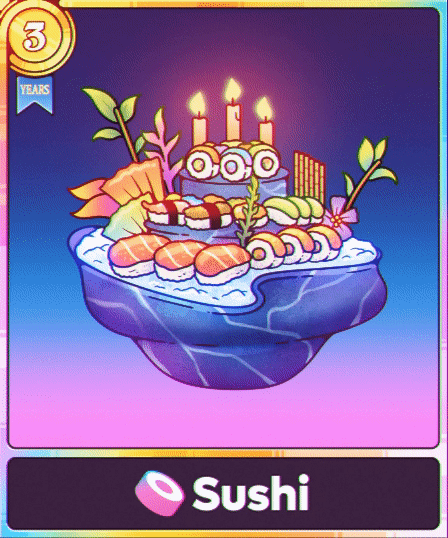 We would like to extend a heartfelt thank you to all our wonderful community members who participated in our Limited Edition Birthday NFT Drop. The enthusiasm and support were truly overwhelming! Now it's time for the moment you've all been waiting for: the announcement of our 30 lucky winners who will collectively receive $3000 in $SUSHI tokens! 🎉🚀
The Spicy Bit: $3000 in $SUSHI
As promised, we have a spicy giveaway of $3000 in $SUSHI, which will be divided among 30 random NFT downloaders. Each winner will receive $100 in $SUSHI tokens, directly credited to their respective wallets.
And the Winners Are...
Here's the list of the 30 winners by their wallet addresses:
0x0a06a969c0d59ebf2f80f02beb89e63ad777d898
0x0e453de902a6d8fa1198770e6ef466e89da7810a
0x2374610077607bc9ae33c368e818214ba9bd32c4
0x3ae8e01536785f47eaa87ff1542ee509671ec8df
0x40a4610a4fdd985e1883744ab1b5eb83b9a7bb71
0x45416bde229d2ff3f713fe0a340b16bb73822e2e
0x4c8324126bc3234c6ab74750c1bdd20997009247
0x5c5f9b2a32f463d337c51e09a25c2092d1f1a6ee
0x645805aa9182c699cb5fcfddb0185abec863e557
0x6d539ddea18df1b868fe8b05b1d1056bf98616fe
0x788fe2bece3f01b9149ab99b93b9aac33c1ac1c9
0x7de0d75d2e03045e32b6ae993fff257466abec70
0x83662f11fad03eb94d4bb5c14b062d04bb66aac1
0x8ba6f544fad86dda70a0a0fd25130769262802d8
0x900328c10dbf57df58f9aba8f3093d650e937d02
0x9c60a69926c16781be3eb0202c037142a39f1ab3
0xa5192fc6ac3a36b57d79a16980c5dab890a233da
0xac96f7e0d612c0853a5745a99db46b6663ff6fb2
0xb357c9059d074fe6c4a54820bb6db61aa7e5d5bd
0xbb1e5e9136715a283b87108797fe278d5ec866ca
0xbf33d8156e2b16f62ccfdb51739812e6b5801cae
0xc39ca18c613bbae7486bf0b89ac7b4f3f6736882
0xca3a327fc3cbb96a815bf31cf84012bba9fe1600
0xd0cb231babf85744a0b0415d5e030b0e768d823f
0xd62e8e34ff3277d496820e62b2ee6f2ff19a8b0f
0xdb80b1859baec8bc718d34ddbdaee02a4cc89dca
0xdf31e06bea5e0016a0d4b6a8999352580a0fa3d2
0xe4af5b80345ae488e1cc4f0e1d412325d166931b
0xeb9c63b55a065006760dd4f410392eade50f474e
0xf59db97ac5297fec118c9acfeeec18f6cd232df2
All prizes will be distributed by end of 2023/09/07 EST time
Once again, thank you all for your participation. The community's energy is what drives us to continue innovating and offering amazing experiences. Congratulations to the lucky winners! We can't wait to share more adventures with you all. Until then, keep it spicy! 🍣🔥